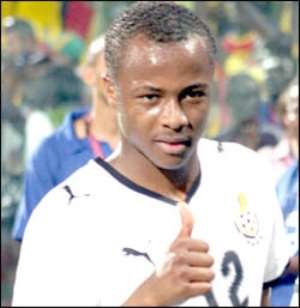 Andre Dede Ayew It was goals galore yesterday when Ghana clashed with South Africa at the Amohoro Stadium in Kigali in the semifinal of the ongoing Africa Youth Championship, with the Black Satellites beating the Amajite Stars by four goals to three.
The 4-3 win thus puts the Ghanaians into the finals of the competition for the fourth time where they would battle Cameroon on Sunday. Cameroon beat Nigeria 2-0 to cruise to the final.
Ghana reached the finals in Mauritius, Ghana and Ethiopia in 1993, 1995, 1999 and 2001 respectively and they were victorious in 1993 and 1999.
Striker Dominic Adiyah opened the floodgates in the 26th minute when he planted the ball in the roof of the South African net, his first in the tournament. This was after he pounced on a pull-out by striking partner, Ransford Osei, who had outrun a South African defender on the right.
Osei himself got the second goal for the Satellites who were then on rampage when he squeeze the ball home in the penalty box after the South African goalkeeper had failed to make a first-time save in the 44th minute.
The South Africans however started the second half on a blissful note getting a goal back in the 54th minute.
Nevertheless skipper Dede Ayew increased Ghana's lead when he headed home from close range in the 65th minute before Macabi Haifa's Osei added the fourth goal in the 71st minute.
But a comeback onslaught by the Amajite Stars paid off as the South Africans got two goals before the end of the game.
First, striker Thulani scored in the 73rd minute before Bhengu Phumelele added an 88th minute penalty. Kassenu Ghandy played his first game in the tournament when he replaced defender David Addy whilst Nice of France Enoch Adu Kofi also replaced Dede Ayew. Abeiku Quansah also came on in the dying embers of the game for Isaac Donkor.
By Charles Nixon Yeboah