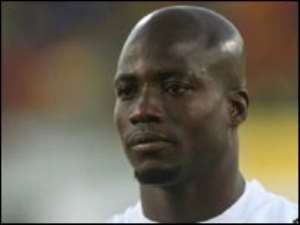 Appiah edges closer to Spurs decision Ghana captain Stephen Appiah excelled in his final trial game for Tottenham Hotspur on Wednesday before his future with the English side is decided.
The 28-year-old athletically marshalled the Spurs midfield and set up the third goal for the club as they held Reading to a 4-4 draw in a friendly.
 
Appiah played the entire duration of the game with verve as he was keen to dispel doubts over his match fitness.
 
Coach Harry Redknapp said on Tuesday that he would hand the former Juventus midfielder a contract if he proves his match fitness.
 
But on the evidence of his performance during the 1300GMT kickoff game, Appiah should expect to get a contract from the English side.
 
Spurs fan Simon Flethcer, who watched the behind-closed-door game, told Ghanasoccernet: "I am surprised that Harry has not given Appiah the damn contract.
 
"I saw the game and from his performance I think he deserves a deal because he is miles above the midfielders we have in our team. All the talk about fitness is rubbish.
 
"He run throughout the game with excellent passes and crucially leadership qualities on the pitch which we lack in our team.
 
"I think we will regret it if we don't hand him a contract now. If other clubs were there to see him they will just trump us."
 
A decision on Appiah's future with the club will be known in the next 24 hours.
 
The Ghana international has been training with Spurs for the last fortnight in the hope of securing a permanent contract.
 
He is available on a free transfer after recently parting with Turkish giants Fenerbahce.
 
Able to boast a CV which also includes Udinese, Parma and Juventus, Appiah's pedigree is not under question.
 
But Redknapp insisted that the midfield enforcer must prove his fitness before he is given a contract.
 
"He's been a fantastic player, I watched him and followed his career at Juventus and tried to sign him three or four times, I saw him play for Ghana on six or seven occasions, and I ended up signing Sulley Muntari (for Portsmouth)," Redknapp said.
 
"He's a top, top player, it's just that he has had an injury and his fitness is way before what you would hope for.
 
"But he's worked hard, so I'll give him a decision today because he's been with us about a month now and he needs to know."
For more Ghana football news visit www.ghanasoccernet.com