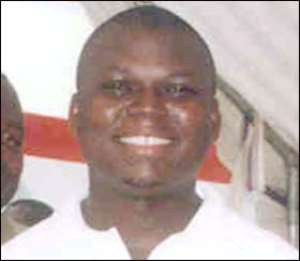 Frank Kyei MERCHANT 2000 Limited, an oil marketing company, has indicated that it is dragging Frank Kyei, the Accra Area Sales Manager of Engen Ghana, to court for enticing it to buy a business plan which has plunged it into huge financial trouble.
According to the company, in a suit filed against Mr Kyei on December 20, 2008, it entered into a dealership arrangement with Engen Ghana Limited for the sale and marketing of petroleum and allied products. Prior to the execution of the agreement, Engen Ghana asked Merchant 2000 Limited to produce a business plan and a cash flow statement.
Mr Kyei clandestinely contacted Merchant 2000 and informed the outfit that Engen Ghana should ordinarily have assisted it to come out with the required business plan since it knew exactly what that should entail.
Consequently, the area sales manager mentioned to the plaintiff that he could prepare the business plan for a fee as a consultant since he has been doing it for other dealers of Engen Ghana.
He was asked to produce the business plan which was also submitted to Engen Ghana.
Mr Kyei further told Merchant 2000 that the service station was lucrative and could turn out huge profits.
However after operating the said business- Engen Ghana's filling station at Adabraka, Accra, for a period of one year, the anticipated profits and projections contained in the business plan could not be achieved.
Rather, the plaintiff started sustaining huge losses.
The situation got so alarming that Mr Kyei and officials of Engen Ghana were made aware. But instead of finding an amicable way of solving the problem they threatened the plaintiff with the termination of the agreement and did same.
Merchant 2000 further said Mr Kyei failed to make a proper assessment of the financial viability of the business and take reasonable steps to ascertain the true state of the profitability of the business before presenting to it the business plan.
It therefore described the said business plan as false, untrue, inaccurate and misleading.
For the financial losses Mr Kyei has caused it to incur, Merchant 2000 has stated it is claiming specific damages to the tune of  GH¢20,000 from him for negligently misleading it.
By Samuel Boadi