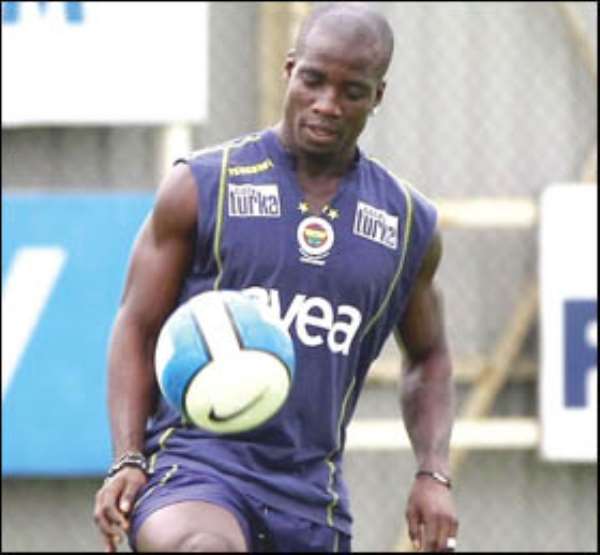 Stephen Appiah - Skipper of the Black Stars Tottenham manager Harry Redknapp has revealed that Stephen Appiah has been a long time transfer target as the Ghana captain gets set to train at White Hart Lane ahead of a possible deal.
As Appiah prepares to start his trial, Redknapp says the 26-year-old midfielder will be given the opportunity to impress.
Appiah, who has been without a club since leaving Fenerbahce in the summer, is set for a trial in North London.
Redknapp has revealed that he targeted Appiah when in charge of former club Portsmouth before opting to sign Sulley Muntari and he is now keen for another look at the former.
"I watched him an awful lot for Ghana - about six times - but I ended up taking Sulley Muntari because Juventus were asking £14million for Appiah," said Redknapp.
"He is going to have a week's training. We will have a chat with him; Daniel (Levy, Spurs chairman) will speak to his people and see what the deal is. He is a good player - if he is fit he's a terrific player."
Appiah was mobbed by fans of Tottenham Hotspur on Wednesday night. The 28-year-old, who is on the verge of joining the club, was besieged as he arrived at the club's stadium to watch the side thump Burnley 4-1 in the Carling Cup semi-final.
The Ghana captain arrived in the company of his Nigeria international pal Osaze Odemwingie and it took several minutes to shake the fans before security intervened for him to take his seat.