Amartey Wins Tema Caddies Competition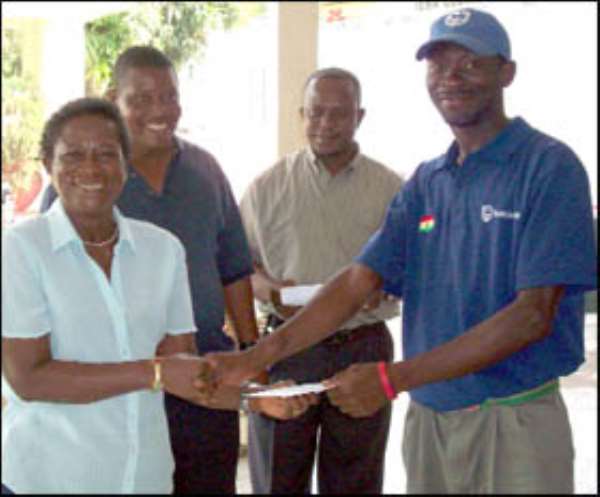 Florence Barimah presenting the winner's prize Amte Amartey returned a gross score of 77 to win the Tema Caddies competition, beating Frank Nyamador to the second position on sudden death at the Tema Country Golf Club on Friday January 2, 2009.
Nyamador also scored 77 gross.
Joshua Asem placed third, while Justice Fiavor came fourth with 80 gross.
The one-day 18-hole completion was organized and sponsored by Florence Etwi-Barimah, out-going Lady Captain and in-coming Lady Captain, Victoria Adjei.
After the event, Ebenezer Adablanu, Manager of TCGC advised the caddies to be very disciplined in their chosen careers to attain laurels for themselves and the country.
The sponsors also encouraged the caddies to be very dedicated and active in the sport.
They also wished the losers better luck next time and as well used the occasion to wish the caddies a happy new year and the best of wishes in the golfing calendar.
There were prizes for the fifth to 10th positions as the first ten winners will represent the club in the Cowbell Caddies competition slated for the Achimota Golf Club today.  
From Kenneth Yankah, Tema