Foreign-Based Players Arrive For Africa U-20 • As CAF Declares Jan 8 For Final List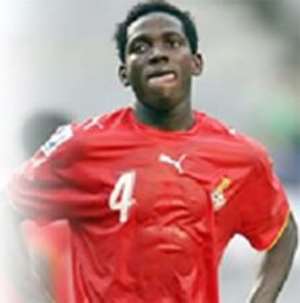 Almost all the foreign components of the national under-20 team, the Black Satellites, have arrived in the country to begin preparations for the African Championship in Rwanda next January.
The bulk of the players arrived Monday ahead of the camping which was originally scheduled to begin that day for which reason it had to be rescheduled to December 29,
Mr. Jordan Anagbla, Chairman of the Black Satellites Management Committee, explained the change was to give room for the players to vote in the upcoming Presidential Run-Off.
Among the players who were expected to arrive yesterday were France-based Abeiku Quansah and Kofi Adu, Denmark-based David Addy and Ransford Osei who plays in Israel.
Others expected to arrive during the week are Andre Dede Ayew from France, Saddick Adams(Spain) and Ishmael Yartey, Portugal.
According to Mr. Anagbla, midfielder Daniel Opare who plays for Spanish giants, Real Madrid, who is one of the players expected might not be able to make it as reports reaching his oufit indicate that the player has been knocked down by injury.
"We are yet to confirm that, but it means we have to be looking elsewhere as there is very little time at our disposal", he said.
Another player, Rabiu Mohammed who he described as key and had played in all the team's qualifying matches, would not be available for camping but could join the team from Spain where is currently on loan.
He said the camping was particularly necessary to enable the handlers to make their final list before the team emplanes for Kenya to acclimatize and conclude their preparations for the tournament.
He revealed that the handlers were under pressure to make available to CAF by a January 8 deadline to present its final list of 18 players and seven officials for the tournament.
He said the handlers would continue with the programme to screen the foreign-based players together with the locals during the camping in order to present only the best for the tournament.
The screening has become possible due to the availability of a large pool of local competitive players who made great showing in the crucial second leg qualifier against The Gambia in Banjul and the last West African Football Union(WAFU) tournament.
Story by Andy Quao