December 11, 2008
|
Football News
Nike Premier Cup Ghana finals head to Dewu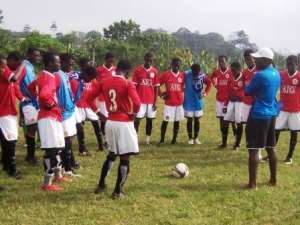 Some of the brightest young football stars in Ghana will be heading to Dawu in the Eastern Region of the country this week, for the NIKE sponsored Premier Cup Ghana Country Finals which commence at 7:00am this Friday 12th December at the Dawu Sports Stadium.
The competition, hosted by Right to Dream Academy, brings together six of the best under-15 football teams in the country to fight for the chance to become national champions. In June 2009, the winners will travel to the Netherlands and represent Ghana in a playoff against national champions from Egypt, Angola and Algeria in the Premier Cup Africa Qualifications. The Africa Champions will then proceed to the MUPC World Finals next summer.
Premier Cup is the biggest - and best - football tournament for under-15's in the world. A chance for young footballers to live the dream of international football and prove they have what it takes to become the stars of the future. Premier Cup offers youngsters from grassroots teams – to some of the biggest football clubs on the planet – a chance to compete in a high quality competition against the very best of their peers.
Chelsea and Ghana Black Stars' Michael Essien wished the young footballers travelling to Dawu good luck and encouraged them to learn from the experience whilst showcasing their talents to the world.
"Premier Cup is a fantastic opportunity for young Ghanaian footballers to see how they measure up against each other. To be a good player is one thing, but to realise your potential you have to challenge yourself by competing against the best and learning something from every encounter.
"The chance to go on and play at an international level will give these boys an immediate focus for their hopes and ambitions and help raise global awareness of the amazing talent in Ghana - and across the whole of Africa."
This will be the second time that a Ghanaian team has had the opportunity to represent Africa in the MUPC World Finals. Right to Dream Football Academy beat Egypt's ENPPI at the first Africa Qualifications and went on to finish in 5th place in Manchester earlier this year, with wins over high profile clubs like Paris St Germain and Manchester United along the way.From youth clubs to some of the most renowned names in football, over the last 16 years Premier Cup has offered more than a million young footballers a truly unique experience to live the dream of world-class competition. Iker Casillas, Cesc Fabregas, Lionel Messi, Robinho, Carlos Tevez and Fernando Torres, are just a few of the tournament's growing list of famous "old boys" who have since made it to the top.