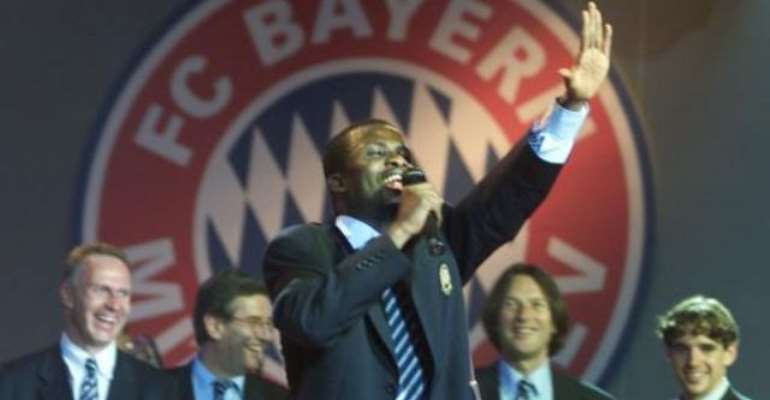 THE Sportswriters Association of Ghana (SWAG) has named Germany-based Ghanaian international soccer star, Samuel Osei Kuffuor, as the nation's Sportsman and Footballer of the Year.
A statement issued in Accra yesterday and signed by the association's secretary, Mr Emmanuel Amoako, said by this achievement, Kuffour becomes the third footballer in the history of the SWAG awards to have grabbed the two topmost awards at a go.
Two footballers who achieved similar feats are Abedi Ayew Pele and Tony Yeboah.
During the year under review, Kuffour was part of the Bayern Munich team that won the European Cup in May 2001 and also played a key role in helping them win the German Bundesliga title.
He also scored the winner in the World Club final against Boca Juniors.
The association also named the national Under-21 team, the Black Satellites, silver medallists at the recent World Youth Championship as the Team of the Year while the award of Coach of the Year went to J. E. Sarpong for the role he played in saving 'Wonder Club' Accra Great Olympics, from the brink of relegation.
Champion Club, Accra Hearts of Oak retained their title as the Top Scoring Club while the club's prolific striker, Ishmael Addo, equalled Dan Owusu's record by winning the goal-king title for the third time running.
Asante Kotoko's stalwart defender, Joe Hendricks came out tops as the Defender of the Year while former international star, Emmanuel Ampeah, now with Alhaji Grunsah's King Faisal Babies, is to be honoured for his Dedication and Valour.
Other award winners are Best Female Footballer — Sheila Okine of GHATEL; Promising Star — John Painstil of Berekum Arsenals; Referee of the Year — Alex Quartey; Best Male Athlete — Aziz Zakari; Best Female Athlete — Vida Anim.
The rest are Volleyball Star — Awudu Shamza of Kwamerk; Tennis Star — Gunther Darkey, Table Tennis Star — Christian Aboagye, Handball Star — Hararah Mahama, Hockey Star — James Bress of CEPS, Badminton Star — Anthony Arthur and Judo Star of the Year — Buernor Agbugblah.
The statement said four organisations and an individual will receive special awards.
They are Cowbell — for sponsorship of cycling, Despite Promotions — for the promotion of professional boxing; VALCO — for sponsorship of schools football tournament; Ghana Telecom — for sustaining the development of women football.
The chairman of Liberty Professionals, Alhaji Sly Tetteh, is also to receive a special award for his immense contribution to football development.
The association said award winners in professional boxing, golf, horse racing, netball and juvenile football will be announced later.
The date for the awards has been tentatively scheduled for March.