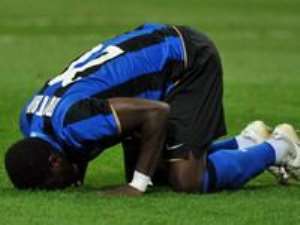 Ghanaian Muslim footballer Sulley Ali Muntari has received a positive response from Italian Muslims after celebrating a goal by performing the Muslim 'Sujud' or prostration to God during an important Italian football match.
Muntari, who plays for Italy's Inter Milan, scored the winning 1-0 goal against Juventus on Saturday and thanked God on the field.
"Not because we root for Inter, but because we are Muslims, we cannot do anything but rejoice for the 'Sujud ash-Shukr', of Sulley Ali Muntari who reminded all of us how you honour Allah, even on a football field," said the Italian Muslim website, Islam Online.
"We are certain that Muntari's example will be important for thousands of young Muslims that make up an important part of the sport in Italy," said Hamza Piccardo director of Islam-Online in an interview with Adnkronos International (AKI).
The position of Sujud - usually performed during prayers - involves having the nose, forehead, hands, knees and toes touching the ground together.
The 'Sujud' of thankfulness used to be performed by Islam's Prophet Mohammed, whenever he heard good news that made him happy by his total submission to God in this act.
He would then perform 'Sujud' to thank God for it.
"We always see football players and other athletes who do the sign of the cross when they enter the field, and it pleases us that players from the top league remember their spiritual dimension in the moment of rejoicing," said Piccardo.
"Contrary to what critics say, Islam is wholly compatible with all healthy lifestyles in the West and Muntari's case is the proof in its most strong and spectacular way," concluded Piccardo.
Meanwhile, another Muslim football player, Mohammed Sissoko who plays for Juventus, says he feels proud of being a Muslim and says he fasts during the holy Muslim month of Ramadan.
"I am proud of being a Muslim and I follow Ramadan even during the football tournament," the Malian-born with French citizen, Sissoko, told the Dubai-based Arab TV network al-Arabiya.