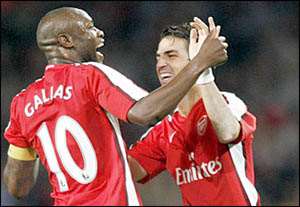 Arsene Wenger has appointed Cesc Fabregas as the new captain of Arsenal. Speculation had been mounting as to whether the Gunners chief would decide to strip former skipper William Gallas of the honour.
The Frenchman had been openly critical of his team-mates last week, putting his position under threat.
Wenger has now decided that it is time for change, rewarding Fabregas for his continued progress into a world-class performer.
The Spaniard will lead the club for the first time in their UEFA Champions League contest with Dynamo Kiev on Tuesday.
Pressure
Wenger refused to comment as to why he had taken the decision at this juncture, but did admit that Gallas will be included in his side for the midweek European contest at Emirates Stadium.
"He will play against Kiev," he said.
He then added on the captaincy: "It will be Fabregas. I don't think I have to explain why. It is a permanent thing."
Wenger was also quick to dismiss reports that he had suffered a falling out with Gallas in the wake of the recent controversy.
"William is a player that I rate. I have big respect for him," he added.
"He was working as a captain under a difficult media environment and he was under big pressure. At some stage, you do not want that pressure to affect him or the team.
"For me he is committed to the club and he can become stronger as a player. I think it can be a new start for him."
Leaders
The Arsenal boss, keen to avoid going into detail regarding his new choice of captain, went on to outline what he expects from those charged with leading his side.
"I believe the captain is the voice of the club," he said.
"He (Fabregas), though, is just one of the leaders of the team. A successful team is a shared leadership - he will be one of many leaders."
Wenger is also confident that his troops can bounce back from consecutive defeats in the Premier League to make Fabregas' first game as captain a positive occasion on Tuesday.
"When we don't win then frustration kicks in, but this a good opportunity for us to show that we have strength and ability," he added.
"You go from catastrophe to fantastic and we are in between at the moment.
"We are frustrated, but it is not all doom and gloom. We have faith in our ability and we have a good opportunity to show that we care about the club."