Shareholders Commend GGBL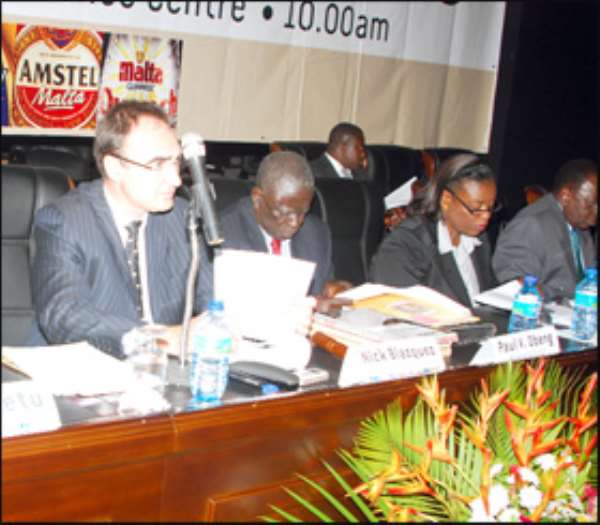 Shareholders of Guinness Ghana Breweries Limited (GGBL) have commended the company for consistently paying good dividends to them.
At the annual general meeting (AGM) of the company yesterday where GGBL declared a full dividend for the year of GHp4.85 per share before tax, a 13 percent increase over the previous year, shareholders commended GGBL for showing a sterling performance.
Dr. Nick Blazquez, Board Chairman of GGBL, informed shareholders that his outfit was currently commissioning an additional bottling line at the Achimota Brewery and was expected to enhance the capacity of the brewery.  
In line with GGBL's corporate mission to enrich the communities in which it operates, he explained that various initiatives in the areas of corporate social responsibility were undertaken in the year under review. The key focus area was the provision of potable water to 150,000 Ghanaians, he added, though other initiatives were undertaken in the area of health, education, agriculture and sports.
GGBL achieved a remarkable growth in its profit before tax of GH¢23.1 million, a 52 percent rise over the last financial year. Normally, the company's financial year starts in July and ends in June.
Importantly, the brewery giant's turnover grew significantly by 31 percent from GH¢125 million in 2007 to GH¢164 million according to the 2008 financial year which ended in June this year.
Similarly, the growth in volume also shot up by nine percent.
Commenting on the performance, Seni Adetu, Managing Director of GGBL emphasized: "Our business remains focused on our people; our brands and our reputation and this enables us to continue to deliver excellent returns to our investors and shareholders.  Our team is dedicated and talented, and we operate within a culture of high performance."
He added that GGBL was realizing the benefits from the synergies created during the recent merger between Guinness Ghana Limited and Ghana Breweries Limited, and hence the company was focused on achieving its vision of being Ghana's Most Celebrated Company by 2011.
From Business Desk