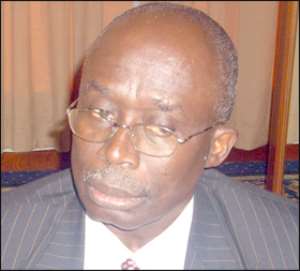 WEDNESDAY November 19, 2008 witnessed the signing of a partnership agreement in Accra involving the Social Security & National Insurance Trust (SSNIT) Informal Sector Fund, HFC Bank (Ghana) Limited and Boafo Microfinance Services Limited aimed at administering credit to informal contributors of SSNIT.
The agreement, initialed by Nana Fredua Agyemang Pambuo, Chairman of SSNIT's Informal Sector Fund, Mr Asare Akuffo, Managing Director, HFC Bank and Michael Osegge, Managing Director of Boafo Microfinance Services, places responsibility on the fund to recruit members from the informal sector, open accounts - occupational scheme accounts (OSA)- for them and ensure that they maintain contributions in their respective accounts. Additionally, it requires the fund to where possible provide loan capital to Boafo Microfinance for onward lending to members of the fund.
Boafo shall also, in fulfillment of its mandate under the agreement, design loan products for members of the fund, evaluate their capacity to borrow, originate and service loans through itself and HFC Bank and further mobilize contributions through loan repayment.
HFC Bank, on its part, is expected to provide loan capital for the scheme, provide banking network for mobilisation of contributions, facilitate disbursement of loans and repayment through its branches and facilitate collection of contributions from members.
Michael Osegge, managing Director of Boafo Microfinance Services, who disclosed the foregoing when presenting highlights of the agreement, revealed that the scheme comprised two loan products – business development loan also known as Busy Bee and Home Improvement Loan.
"Boafo shall proceed to process the loan where the loan applicant has been a member of the fund for at least six (6) months and has a credit card on their OSA."
During the tenure of the loan, applicants will have to pay 5 percent of the loan payment as their contribution to the fund, he underscored.
Other benefits to scheme members will be the strengthening of economic security through simultaneous growth of people and occupational pension funds to guarantee economically stable households.
In an address, Mr Asare Akuffo indicated that HFC will use its expanding branch network to provide micro finance services to the large Ghanaian informal sector.
"Our branch network will cover all the regions of the country by the end of 2009."
HFC Bank offers commercial, mortgage and investment banking services and has subsidiaries which provide microfinance and realty services.
"We have private banking for our high networth customers, traditional banking services for the middle income and dedicated microfinance centres for the low-income group."
Boafo is the microfinance subsidiary of HFC Bank established as a joint venture with CHF International of USA in December 2006. Boafo addresses a market niche by providing housing to low and moderate-income Ghanaian households in their pursuit of shelter, business, education and other opportunities.
It offers loans ranging between GH¢500 and GH¢10,000 per person repayable between 4 to 24 months.   
By Samuel Boadi