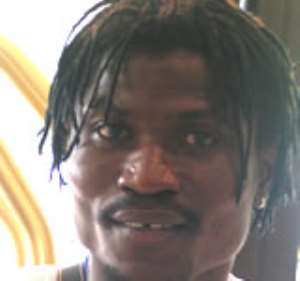 Hearts manager Csaba Laszlo says he understands why midfielder Laryea Kingston flew home to be with the Ghana squad despite carrying an injury.
However, Laszlo admits he would have preferred Kingston not to have made the 4000-mile trip with the 28-year-old not featuring in the friendly with Tunisia.
The Hearts boss is now looking forward to Kingston returning to fitness.
"For me, I don't have any bad relationship with Laryea," said Lazslo "I protect him and my players always."
The Ghanaian FA had reportedly wanted Kingston in Accra so his country's team doctors could examine the extent of his thigh injury, a decision said to have angered Laszlo.
But the Hungarian denies any animosity toward the player, insisting he was simply worried about the potential aggravation to Kingston's injury.
Kingston has missed Hearts' last five games for Hearts and is due to return from Ghana on Monday.
"If Laryea Kingston is back and he trains and is injury-free then he will play because he is a very important player, " added Laszlo.
"The player must understand that, if he has quality, I would like to see this quality on the field but for the team.
"I like individual players, individuality can win a game, it can decide a game but not always.
"You can take the ball alone, take the ball in circles and hold the ball and people will applaud you.
"But I would like to see the team being applauded and not one person."
Source: BBC