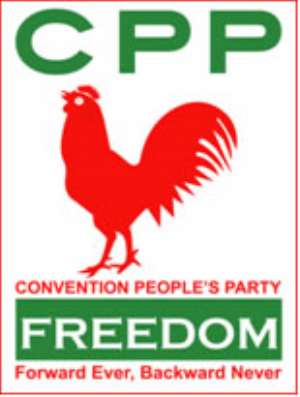 Mr Felix Amoah, Chairman of the "Nduom for President 08" on Friday said Mr Eric Kwabena Benyarko has never been the Chairman of the "Nduom Campaign Team" but rather was the chairman of the National Campaign Team of the Convention People's Party (CPP) until his resignation in June this year.
In an unsigned rejoinder by Mr Amoah to the Ghana News Agency, he said: "Mr Benyarko stepped down in June 2008 in line with the dictates of his new business appointment, and Dr Abu Sakara, First National Vice Chairman, took over that position.
"It is also important to note that Mr Benyarko himself has this morning come out strongly to distance himself from the GNA news item."
The statement said: "Mr Amoah, a Cabinet Minister in Dr Limann's People's National Party (PNP) Government and Former Acting National Chairman and Leader of the CPP, has been the Campaign Chairman for the "Nduom for President 08" campaign team since July 2007 and was still championing the same cause with vigour.
"Of course the CPP like any other political party, has its own challenges but I don't think those challenges are not surmountable."
The statement said "the party is in its final lap of the race to the Flag Staff House and nothing, repeat nothing can change our focus, adding, "CPP remains an independent political entity before, during and after the elections and will never be a surrogate to either the NPP or NDC".
The Ghana News Agency on November 20 2008 reported: "Mr Eric Kwabena Benyarko, campaign chairman of Dr Paa Kwesi Nduom, Convention Peoples' Party (CPP) Presidential Candidate for Election 2008, has resigned citing 'operational administrative challenges' as the main reason."
The GNA's source was a letter Mr Benyarko sent to the National Chairman of CPP, Mr Ladi Nylander.
GNA wishes to apologise for not realising that "Nduom For President 08" operated outside the established Party organs.