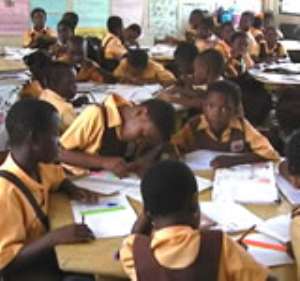 A one-day Sports Festival would be organized for children at the Kawokudi Park at Maamobi, Accra on Saturday, 22nd November 2008 under the auspices of Osu Children's Library Fund (OCLF).
The festival is being organized by "Young Leaders" of SchoolSport for children who patronize OCLF libraries in Accra and Goi, to give them an opportunity to merge their athletic abilities with activities that promote reading for pleasure, Ambrose Nazzah, SchoolSport Program Co-ordinator stated in a press release.
The libraries include Mamprobi Gale Community Library, Kathy Knowles Community Centre – Goi, Nungua Community Library, Kathy Knowles Community Library – Osu and Nima Maamobi Gale Community Library.
Over 170 children between the ages of 10 and 14 will take part in both indoor and out door games such as Football, 3 Legged Race, Sack Race, Spoon & Lime Race, Bottle Filling and a spelling game called Boggles.
The Assembly Member for Maamobi East Electoral Area, Alhaji Haruna B. Dabre and the Zonal Sports Secretary of Ghana National Association of Private Schools (GNAPS), Mr. Benjamin Sika amongst other few distinguished personalities have been invited to grace the occasion.
SchoolSport is a youth sports organization that aims to empower young people, especially in basic school, to develop their leadership skills through sports.
SchoolSport was founded in July 2006, and currently has over 70 'Young Leaders' between the ages of 14 and 19 who have been trained to organize sporting events for younger people within their schools and communities.