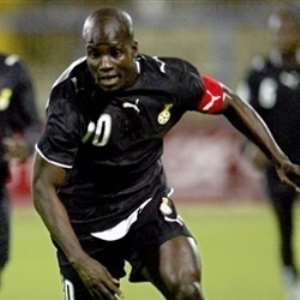 Stephen Appiah's extraordinary career continues when Ghana face Tunisia in a friendly at Ohene Djan Stadium on Wednesday.
There have been much highs and lows, including a brush with threatening knee injury that confined him to the sidelines for a greater part of this year.
Appiah would return to the Ohene Djan Stadium turf again this evening to lead the Black Stars again, one year after helping Ghana win a mini-tournament in November 2007.
Back then, he was a player of Turkish side, Fenerbahce but Appiah goes into action today with the status as an unattached player.
Appiah spent eight months on the sidelines with injury before a tussle with his Turkish club threatened to block his move to a new club.
But now freed by Fifa, Appiah wants to sort out his club future as soon as possible.
"I am getting tired of not playing now," he said.
Whether Appiah, who led Ghana to the World Cup in 2006 can have a positive impact is not the big question being debated in the Black Stars camp but around the world, his every move would be closely monitored.
Wednesday evening's game will be closely monitored by some European managers and he will want it to go better than his first game for the Black Stars this yea, three months ago.
There's been reports that scouts from at least three English teams will watch game.
"If they are watching then it will motivate rather than put me under pressure," he said. "But I will play my normal game and help the team."
Playing every week would have been the ideal situation for him but Appiah intends to make the most of the game against Tunisia.
"I train regularly with Brescia in Italy and have stayed in top physical shape but it is never the same as having a club, playing every week and doing what you love."
Appiah feels a decision on his future club side is close and today's game is expected to be his final one before putting pen to paper.
"I have always said once I have not signed a contract, there is nothing but there is interest from England, Italy and Spain. I know definitely that it will not be long before I am back at a club."