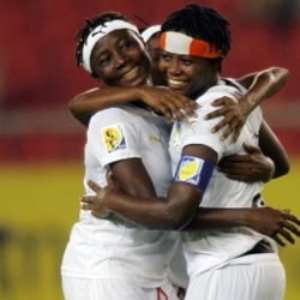 Ghana's Black Queens are keen to build on their impressive start to the African Women Championships when they play South Africa today in Bata.
The South Africans top the standings after beating debutants, Tunisia 2-1 in the first game.
Despite failing to take all three points from their opening game against Nigeria, the Black Queens have been boosted by the outcome of the 1-1 drawn game.
The Queens took a first half lead through Florence Okoe's screamer but threw away the lead with three minutes remaining.
And ahead of today's tie against the Bayana Bayana, the confidence level in Mumuni Gamel's team appears high as the Black Queens attempt to end Nigeria's dominance on the African stage, having won all five previous Championships in the last 10 years.
Black Queens attacker, Gloria Oforiwaa who played her part in the draw says the team has cleared the most difficult tie in Group B as Ghana go in search of their first win.
"It's a good result for us. We made a mistake but could have won. We wanted to win but we are not heart broken.
"This was the most difficult and important match so one point is not bad. But we will win our remaining two matches and move on."
Ghana's next game after today is on Friday when the Black Queens take on Tunisia in their final group game.