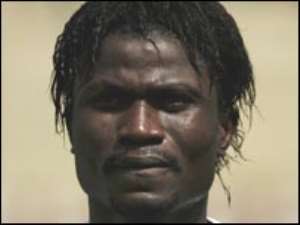 Laryea says he wants to protect his family Hearts' Ghanaian midfielder Laryea Kingston is confident that he will win over the Scottish club's manager Csaba Laszlo in a misunderstanding over his trip his home country. 
The 28-year-old, who not played for Hearts for the past five weeks, travelled after officials of the Ghanaian FA insisted that they wanted to assess the player's fitness for themselves.
Laszlo is angry that the midfielder travelled 4000 miles for the game against Tunisia when he is injured but Kingston denies he is in Accra to play.
" I am not in Accra to play the game but I am here to prove my country's FA that I was not lying when I said I am injured," Kingston told Ghanasoccernet.com.
"I am very sad that this has come out as if I have defied the club and the coach I respect so much just to be here. I will be on the plane tonight even before the Ghanna game starts.
"I had very good intentions for the good of my club and it is the reason why I came. I want to make it clear that I will not do anything to mar the good relationship I have with Mr. Laszlo and the fans."
Kingston sought permission to miss Ghana's friendly against South Africa under new coach Milovan Rajevac last month even though he was fit.
The midfielder says consistently absenting himself without a convincing proof might spark trouble for him in his country.
"Some people in Ghana think that when we foreign-based players say we are injured it might not be true so I wanted to prove to them," Kingston told Ghanasoccernet.com.
"Some fans of the national team who are also very passionate can even physically attack me or my family over this that?s why I am here to prove to everyone that I am injured.
"Last month when I was invited for the friendly against South Africa's I pleaded with my the Ghana FA to leave me out because I would have returned on a Friday when my club had a game on Saturday.
"As the Ghana coach agreed to my request, when I continue missing the matches without giving any proof some might think I am being a truant.
"Since there is also a new national team coach for Ghana and if I don't make any effort for him to see he might also have a different view of me."
Despite the rift caused by his trip to Accra, Kingston is confident the former Uganda boss will understand him he speaks with him on the phone today.
"I will call coach Laszlo soon and have a chat with him and having coached in Africa before he will sympathise with me."  
For more Ghana football news visit www.ghanasoccernet.com