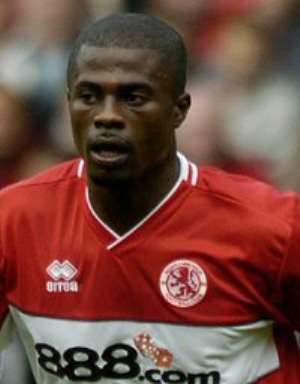 Boateng regrets not playing for Ghana England-based midfielder George Boateng has learnt to live with the fact that he will never play international football for his native Ghana.
But the thought of playing alongside the richly-talented Stephen Appiah, Sulley Muntari and Michael Essien in the Black Stars engine room is one that struggles to go away.
As a naive teenager Boateng made the decision to switch to Dutch nationality in a bid to make it easier to get into the Feyenoord first team.
It was a choice that would end up having more far reaching consequences than he ever imagined.
"At 15, I had to change my nationality from Ghanaian to Dutch, because at the time there were only three non EU (European Union) residents allowed to play in the first-team," Boateng told AFP.
"I had to change it to give me a better chance of playing at Feyenoord.
"As soon as I changed I played for the Holland Under-16s, then I played for the Under-21s at 19-years-old and captained them for three years. My life was actually in Holland, I never kicked a ball in Ghana, only street football.
"I can't play for Ghana now. Sometimes I wish it would have been different, because I didn't play that many games for the full Dutch national team, only seven or eight.
If I had played 30 games or more for Holland then it would not bother me as much.
"Sometimes I wish that I had played with Appiah and Essien for Ghana, but that is life and you have to get past that.
"I enjoyed watching them in the World Cup and when I saw Essien recently, we talked about how good it would have been for me to play with them for Ghana. But sadly, I will never get that opportunity to do so now. Instead, I have to be happy with being Ghana's biggest fan."
The Netherlands is renowned for having one of best the youth coaching set-ups in the world, but when the nine-year-old Boateng moved there it was to receive an education of a different kind.
Boateng may still be an active player but that hasn't stopped him thinking about a career in management after he hangs up his boots.
And that's something he feels is now as much an option for black players as anyone
else.
"It's great to have a black manager in the Premier League but I don't feel it matters anymore. It's 2008, it was a big thing that Paul Ince got the (Blackburn Rovers) job, but the door is open now.
"We've just got the first black American president - the chance to succeed is there, you just have to reach out and grab it."
Source: AFP
For more Ghana football news visit www.ghanasoccernet.com