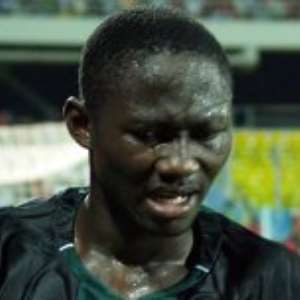 Bekoe says agents deceived him Asante Kotoko striker Eric Bekoe, the star of the Ghanaian Premier League, is blaming deceitful agents for his failed attempt to win a contract in Denmark. 
The forward was subjected to a rigorous test with Danish league leaders Odense even though he was told the deal was done before he left for the European country.
Bekoe, who had insisted on a straight deal without trials, says the agent who took him to Denmark is responsible for his botched move.
"I was told a completely different story before flying over from Ghana. They told me I was going for medicals." Bekoe told KickoffGhana.
"When I went, the club was too busy preparing for the Champions League so there was no time to look at me and know the kind of player that I am."
The striker insists that the cold winter condition at this time of the year is the reason why he insisted on a straight contract.
Bekoe says the wintery conditions does not bring out the best in a p[layer from a tropical climate as time is needed for a trialist to adapt.
"When I say I don't want to go for trials it is not because I feel too big to justify myself, it is because I want to avoid some of these things in the future," Bekoe said.
The Odense trial is the latest setback for the Kotoko forward who failed in previous times to land deal in Europe under similar circumstances.
"When some of the agents approach you, they speak as if you have a ready made deal waiting but when you go there you find it is not true," Bekoe revealed.
?This is about the fourth time I have been deceived by agents.?  
For more Ghana football news visit www.ghanasoccernet.com