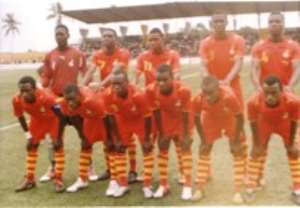 STARLETS HAVE A GOOD START The Black Starlets needed two second-half penalties  to secure a 3-1 win over Gambia in the first leg final round Africa Under-17 Championship qualifier at the Baba Yara Stadium on Sunday.
The Starlets opened the scoring on 14 minutes after Bright Addai headed home from a free-kick. 
The Gambians drew level two minutes later through Camara Basamah.
Starlets defender Moro Ibrahim reacted late to a cross from the right-flank and the home side were left shocked with the goal.
After the break, a Gambian defender handled the ball in the 54th minute inside his box and the assistant referee was right there to prompt the referee for a penalty.
Moro Ibrahim picked the ball and displaced the goalkeeper in post for Gambia. 
In the 83rd minute, midfielder Ebo Andoh was brought down in the 18-yard box and the referee pointed to the penalty where Ibrahim made no mistake in scoring.
The Starlets must prevent the Gambians from scoring two goals without reply and would have ended hopes of qualifying for the Africa Championship.
The winner over the two-legs pick a ticket to Algeria 2009. 
For more Ghana football news visit www.ghanasoccernet.com