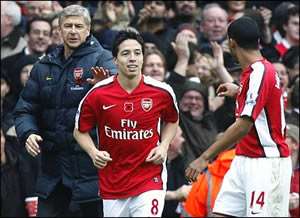 Arsene Wenger's face was a study in satisfaction as he reflected on a game that was a victory for his principles as well as his football team.
Arsenal's manager has endured a troubling 10 days, with a draw against Spurs and the acrimonious aftermath of a defeat at Stoke City causing previously adoring supporters to openly question him for the first time.
But, after the Emirates reverberated to the sound of Wenger's name and Manchester United were beaten, he was able to answer his doubters in typically eloquent fashion.
Wenger sat tracksuited in the opulence of the Emirates media theatre and admitted he knew what defeat would have meant - but he drew huge pleasure from a win that meant even more.
If Manchester United had beaten Arsenal, the inquest about his methods and his team would have continued unabated, complete with questions (admittedly ludicrous ones) about whether Arsene's era had run its course.
A deserved victory in a magnificent game may not have banished all the doubts - remember Arsenal have lost to Fulham and Hull as well as Stoke this season - but Wenger was given a measure of vindication by an outstanding performance.
The Emirates was an uncertain place to be before kick-off, with Arsenal fans expressing genuine fears for their understrength team against a United side reinforced by the return of Wayne Rooney and Dimitar Berbatov.
The contrast could not have been more stark as the final whistle sounded at the end of six minutes of stoppage time and an encounter that was played in gloriously cavalier fashion.
Faith was restored in Wenger, remember the mantra "Arsene Knows", and the man himself was able to reaffirm that he had never lost faith in his players.
He said: "If players have the right quality they will always have the right answers."
Wenger's studied principles still cause heartache for some Arsenal fans, including one poor individual who parked himself alongside the press box shouting "kick it away" for the entire period of stoppage time.