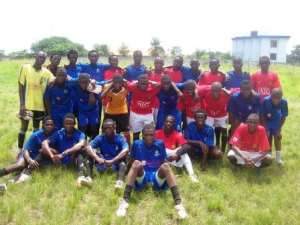 Ultimate Football Club, a fast growing soccer academy based in Lagos, Nigeria is currently in Ghana for some friendly matches against their Ghanaian counterparts.
As an amateur second division team, Ultimate FC has toured the Ivory Coast, Togo and Benin playing against some of the best under 15 and under-17 teams on the West coast. They recently paid their first visit to Ghana and have played in a friendly match against the Shooting Stars of Achimota. The game, which was played at the Azumah Nelson Sports Complex in Kaneshie, Accra saw Ultimate FC losing 2:0 to Shooting Stars in the under-15 category. However the under-17 team redeemed the image of their team when they drew 1:1 with their opponents. They took an early lead in the game but couldn't sustain their 1:0 lead as the Shooting Stars team equalized in the dying minutes of the game.
Ultimate FC will end their tour to Ghana on Saturday November 8 with another set of matches against the under-15 and under17 teams from The Right to Dream Soccer Academy in Dewu, Eastern region. The Right to Dream Soccer Academy represented Africa at the Manchester United Premier Cup world finals in August of this year where they placed fourth. If in fact The Right to Dream Soccer Academy is the best in Africa at the moment, then Ultimate FC team would really need to up their game in order to keep a decent score line against them.