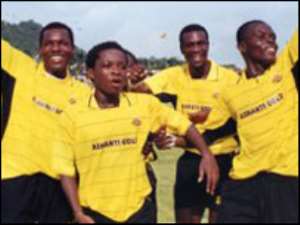 ASHGOLD NEED BEST TECHNICAL BRAINS Former Black Stars coach Ralf Zumdick is expected in the country on Wednesday night as a technical advisor to AshantiGold Football Club.
The 50-year-old has accepted a one-month visit to Ghana based on his personal relationship with Chief Executive Herbert Mensah.
But the Obuasi-based side have been quick to dispel talks that he will be taking over as its technical head.
Zumdick is expected to offer technical advice to the club that will aid acting head coach Momcilo Medic.
" Zumdick is here to impart his wealth of experience at top German clubs to our technical team who are readying to start the league and also revive the AshGold academy,'' Mensah said in a statement.
The German was handed his first job in Ghana at Kotoko under the chairmanship Herbert Mensah and joined him at King Faisal when he switched.
Zumdick left the Black Stars job in 2004 to Bundesliga side Hamburg as assistant an coach before joining Dortmund last year.
Last month, a Birtish Virgin Islands consortium led by Herbert Mensah took over the running of the club.   
For more Ghana football news visit www.ghanasoccernet.com