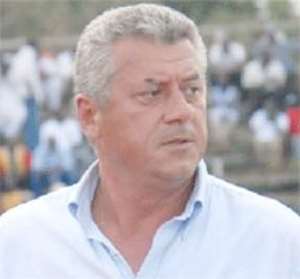 The coach of Accra Hearts of Oak, Kosta Papic, is worried about his team's inability to utilise chances and says his focus is to sharpen the scoring skills of his attackers before the league season commences in three weeks.
"We are missing too many chances, which is not good for us, we must work on the scoring problem very fast and very seriously if we want to win the league," the coach told Graphic Sports in an interview after Hearts beat Wa All Stars 2-1 in a friendly game at the Ohene Djan stadium last Sunday.
The coach who appeared pleased with the team's performance said he did not have so much to complain about, but rather how the team was going to play during the league.
Papic said he could not understand how a team could get over 25 chances in a match and only convert two. "That is not my target, I want to score more goals than what we scored today," the coach stressed.
He said with the few mistakes corrected, the team was ready to take on any club in the premiership when the season begins and said he was looking forward to the new players recruited by management to augment the strength of the team.
He said he also needed reinforcement in certain departments of the team, including striking and goalkeeping, which he has been asking for since August, while explaining that none of the old players who were asked to rejoin the team had reported.
"We are waiting for them and when they come they must pass all the training schedule that we've had with those players who are with us now, and after that those who survive will stay with us".
Story by Peter Sarbah