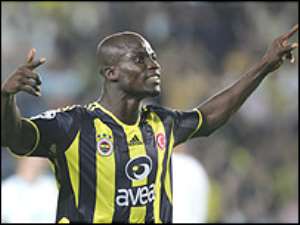 Appiah wants a quick resolution Fifpro has warned Fifa that players across the globe will be forced to take football matters to the civil courts if Stephen Appiah's standoff with Fenerbahce is not sorted out soon.
The world players' union is backing the Ghana captain in his battle to insist he is free agent and to claim compensation from the Turkish side.
Fenerbahce are suddenly claiming they want transfer fees for Appiah in the wake of interest from top English clubs even though Fifa declared him a free agent.
This prompted Fifpro to report the issue to Fifa in February but the world governing body's dispute resolution chamber has still not ruled on the matter which has infuriated the players' body.
"When confronted with administrative slowness which they (FIFA) do not understand and which they will eventually stop accepting in light of the athletic and professional penalties that come as a result," Fifpro secretary general Stephane Burchkalter said in a statement. 
"Will the players not one day soon be more likely to bring their disputes to civil tribunals instead of taking them to sports judicial bodies? 
"Does FIFA understand all the risks involved?
"Does FIFA understand the increasingly delicate position in which national players' unions and FIFPro find themselves?
"After having always encouraged professional players to take their grievances to FIFA's judicial body and now facing increasing, and daily, discontent from their members who feel forgotten, or even abandoned."
Appiah has recovered from the complications of the surgery and has so far played two World Cup qualifying matches for the Black Stars.
He is keen on a transfer to the English Premier League with Tottenham, Portsmouth and West Ham all linked to signing the midfielder.
Appiah joined Fenerbahce in 2005 from Italian giants Juventus after winning the country's league title that season.
His decision to leave Juventus ended his seven-year stay in Italy after earlier spells with Udinese, Parma and Brescia.
For more Ghana football news visit www.ghanasoccernet.com