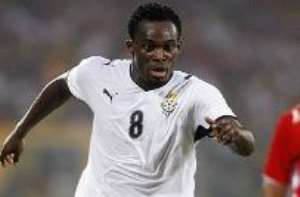 Essien could be out until March Injured Ghana midfielder Michael Essien has admitted he could miss the Black Stars opening World Cup qualifier against Benin despite talk of an early return. 
The Chelsea star needed surgery on a knee injury after landing awkwardly during the World Cup qualifier against Libya in September.
Chelsea manager Luiz Felipe Scolari claimed earlier in the week that Essien could be back by January meaning he could have been available for the Group D game in Accra on 28 March.
But the 25-year-old, currently at the Centre Technique National Fernand-Sastre (CTNFS) in Clairefontaine, France, believes he could be sidelined for longer may be until late March.
"It's the surgeon who operated on me who recommended to me to come to Clairefontaine," he told the France football federation website.
"It's the first time in my career that I have been so seriously injured.
"It's difficult for the moment to fix a date for my return. But I know that my recovery period will last a total of four to six months.
"At the moment I'm not thinking about it much. I'm following the treatment calmly. Everything's going well.
"It's actually the third time I've come to the CTNFS. I'm very well looked after and the club doctor and physiotherapist have visited me.
"This weekend I will return to London but it's possible that I'll then come back to Clairefontaine.
"Chelsea play in Rome next week in the Champions League. Being immobilised, I can't do anything but follow the match on television, but the team have the assets to bring back the three points from the trip."
For more Ghana football news visit www.ghanasoccernet.com