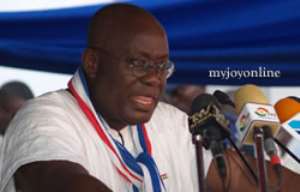 SPEECH BY 2008 NPP PRESIDENTIAL CANDIDATE, NANA ADDO DANKWA AKUFO-ADDO ,MP, TO HEALTHCARE WORKERS ON MONDAY, 27TH OCTOBER, 2008 AT KOFORIDUA REGIONAL HOSPITAL
ON
"BUILDING A HEALTHY NATION"
INTRODUCTION
Good morning. I am grateful for the opportunity to address you this morning on this very important subject.
Health, quite appropriately, is considered by many to be "the first wealth".
When I inaugurated the 2008 NPP Campaign Committee in Accra on the 13th of March, this year, I pledged that the next NPP government would focus on four central themes:
first, the consolidation of our democracy
second, the modernisation of our society
third, the transformation of our economy
fourth, our full involvement in the agenda of regional and continental integration.
Right after that inauguration, our team went to work to fashion the agenda for moving our nation forward. Three weeks ago, after consultations with Ghanaians at home and abroad, from all regions, of all faiths, and taking due account of our values, our history and our aspirations, we launched our manifesto in Kumasi. While all the four themes of our manifesto are important, none of them will define our success more than modernisation.
The modern Ghanaian society that we build must have a healthy and educated population, have infrastructure that is in tune with the times, based on the most recent scientific and technical innovations, have opportunities for the youth, promote gender equity and care for the vulnerable in our society- the young, the aged, the disabled, the sick and the poor. Nothing is more critical to modernisation than health and education.
NPP's HISTORIC ROLE IN HEALTH
Today, I want to talk to you about how, together, we can build a healthier and more productive nation. Our party's journey to our current position on healthcare did not start this year or with our 2000 manifesto. It started in 1970 when the Prime Minister, that farsighted leader and great champion of liberty, Kofi Abrefa Busia, established a committee under the chairmanship of the renowned doctor, Konotey Ahulu, to collate information on health insurance systems and determine the feasibility of such a system in Ghana. Unfortunately, that effort was truncated by the 1972 coup led by Col I.K. Acheampong.
We were motivated by the desire to pursue social justice in health by ensuring that no one, regardless of ability to pay, would be denied necessary care for an illness. Dr. Busia was inspired by the famous British Health Secretary, Aneurin Bevan, who stated, while introducing in the British House of Commons the British National Health Service Act in 1946, that "no society can legitimately call itself civilised, if a sick person is denied medical care because of lack of means. Society becomes more wholesome, serene and spiritually healthier, if it knows that its citizens have at the back of their consciousness the knowledge that not only themselves but all their fellows have access when ill to the best that medical skill can provide".
NPP ACHIEVEMENTS
The National Health Insurance Scheme was passed in Parliament without a single NDC vote. Since then, with the help of hardworking health workers like you, 11.3 million Ghanaians have registered with the Scheme and freed themselves from the clutches of the inhumane "cash-and-carry" system. Here, in this region, 1,394,500 people, comprising 61% of those eligible, have registered.
Their stories are many and varied. There is the man who, after living with a hernia for many years, was able to have surgery free of charge because he had an NHIS card. There is the pregnant woman who, for the first time, was able to afford a delivery in a hospital without the fear of being detained with her newborn after delivery because of NHIS. Finally, there is the doctor, who said last week "the patients are coming in sooner and therefore we have better outcomes".
In addition to the introduction of the NHIS, we embarked on the construction of many healthcare facilities. Amongst these are the 48 clinics that have been upgraded to the status of hospitals. Here in this region, the NPP government has constructed the ultra-modern Begoro hospital, and clinics at Nankese, Akim Aperade and other places. Right here in Koforidua, we are building a modern poly-clinic to serve this area. Also, amongst the facilities are the state-of-the-art Gushiegu Hospital and twenty-one dental facilities. A 339 million USD facility has been secured to build regional and/or district hospitals at Wa, Kumasi South, Manhyia, Konongo-Odumasi, Adenta/Madina, Tepa and Salaga.
We are in the final stages of the construction of the largest Accident Care Centre in West Africa at the Komfo Anokye Teaching Hospital.
We have launched a National Ambulance Service that is helping to get patients to caregivers quicker.
We have approved the establishment of a Medical School at UCC and supported the expansion of the one in Tamale, in addition to establishing the College of Physicians and Surgeons. Overall, we have increased enrolment in our health training institutions from under a thousand under the NDC to seven thousand last year.
We have provided state-of-the-art equipment to our hospitals. An example is the provision of new radiology equipment, including the first MRI in Ghana to Korle-Bu hospital.
To complement these, we have introduced changes in pay and conditions of service of healthcare personnel that have significantly improved retention. For instance, last year, 60% of medical graduates were at post compared to 20% in 2000. There are similar stories all across the healthcare arena.
In the area of potable water and sanitation too, we have made good progress. In the last seven years under the NPP, over 8000 boreholes have been completed compared to less than 4000 under the NDC.
The NPP installed twice as many pipe systems as the NDC did in a comparable period. The towns and communities with new systems include Cape Coast, Kwanyaku, Winneba, Koforidua, Ho, Kumasi and Tamale. For example, Baafikrom, which used to produce 500 thousand gallons of water per day, now produces 2.5 million gallons per day. The Kwanyaku system that used to produce 3 million gallons per day now produces 7.7 million gallons per day. Finally, the Galun system that supplies the Tamale metropolis that will increase production from 4.3 million to 9.3 million gallons per day is expected to be completed this month. To help improve sanitation, the NPP has constructed 43, 361 household latrines/KVIP compared to 11,002 by the NDC government.
CHALLENGES IN HEALTH
While these achievements are significant, let me be the first to admit that much still remains to be done.
There is too much delay in processing NHIS applications or payments to health providers, while there is inconsistent portability.
Our environment and homes need to be cleaner.
Too many Ghanaians still lack access to potable water.
Too many Ghanaians still lack access to toilet facilities.
Too many still perish needlessly on our roads.
Indeed, to underline the crisis facing us, let me cite a couple of examples.
First, in 1960, the Brachott report envisaged that, by 1970, the health delivery system would have 25 Area Health Hospitals of 150 to 200 beds each all over the country with 21 doctors in each. Also envisaged were six regional hospitals of 200 to 400 beds each and 44 doctors each.
There were more items in the program but suffice it to say that nearly forty years after the target date, those goals have not been fully met while our population has increased a great deal!
Second, recently, the Ministry of Health admitted that 80% of outpatient complaints could be linked to filth and lack of cleanliness. The stark reality is that malaria, diarrhoea and many other diseases we suffer from will be considerably reduced if we take better care of our environment.
Obviously, we have a lot of work to do.
NEW INITIATIVES
The NPP believes that we must take the following measures to meet the goals on health in our manifesto.
First, reform and strengthen the National Health Insurance Scheme by;
reducing paperwork and thus speeding up the processing of applications as well as payment to health providers for services rendered
completing the ongoing production of a centralised data-base that will enhance portability and reduce unnecessary paperwork
training the NHIS staff better to enhance professionalism and accountability both for the NHIS staff and the public
using the leverage of the NHIS to drive improvements in quality in our healthcare institutions
accelerating the construction of facilities and providing more equipment for services to increased population
training and retaining more healthcare personnel. This will be done by building new training facilities and expanding existing ones, while encouraging private Universities and institutions to establish training facilities, including Medical Schools. This will be complemented by the provision of better pay, housing and rural allowances as well as retirement schemes for health professionals that will ensure that healthcare personnel retire with accommodation that they own free and clear.
While the NHIS must change, it must change for the better, not the worse. We are concerned that the NDC promise of a one-time premium may endanger the Scheme. Either the one-time premium will be so high that many cannot afford it and we will thus revert to the "cash-and-carry system" or it will be so low that the Scheme will collapse from cash-flow difficulties as more and more Ghanaians sign up.
While we will not accuse the NDC of any sinister motives for suggesting changes that may collapse the NHIS, we question their judgment on the NHIS. They were wrong to oppose it. They were wrong to criticise it and they are wrong to suggest a single premium that may collapse it.
Second, we must improve our sanitation and clean up our environment by
investing in garbage disposal and our sewerage systems and providing many more public toilets. To this end, we must seriously commit to finding an alternative to the current system of just throwing our plastic bags anywhere. Either we ban the use of plastic bags, like the Chinese have done, or we put in place a system for recycling them
assisting educational and healthcare institutions to undertake waste processing that will transform their waste into energy. An example of this is the Nkawkaw Holy Family Hospital that does not spend money to dispose of its waste, but recycles it into energy. I see the day when hospitals like your own and many others can convert their own waste into energy
enforcing laws on cleanliness by putting on our streets 20 thousand sanitary inspectors per year for the next five years
launching an aggressive public education campaign, the "CLEAN GHANA INITIATIVE",that will make Ghana the cleanest country in West Africa within the next five years
negotiating more stringent protections for our environment with companies and enforcing our environmental laws, rules and regulations more vigorously.
Third, increase the proportion of our population with access to potable water by dedicating more financial resources to the provision of water and educating the public about the role of unclean water in the transmission of diseases.
Fourth, reduce the rate of motor vehicle accidents as well as the incidence of injury and deaths in these accidents by
making sure that vehicles and drivers are consistently road-worthy, while enforcing the rules of the road
working with stake-holders to educate the public about the use of seat-belts, drinking and driving, driving while tired etc
building more accident centres in hospitals near major highways e.g. having an Accident Centre in the Winneba area
training healthcare personnel in the basics of providing emergency care to accident victims.
Fifth, link traditional medicine practitioners more to our formal system by
promoting joint conferences with orthodox providers to promote understanding and collaboration
using financial assistance, training in the basics of hygiene and emergency care as well as other benefits of certification to get them into the formal system.
Sixth, strengthen with more resources, personnel and stronger laws, organisations charged with protecting the public, such as the Environmental Protection Agency, Road Safety Commission, Food and Drugs Board.
Seventh, enhance public commitment to and support of health promotion by
public education through media and schools
continued sponsorship of exercise clubs with equipment and literature
provision of more nutritious food through the School Feeding Program and enforcement of regulations that will discourage patronage of fast food and alcoholic establishments
assist Churches to give the youth alternative activities and teachings to discourage anti-social activities.
Eighth, committing 10% of our budget to healthcare within the next five years to give impetus to these programs.
Ninth, promoting healthcare as a business by
facilitating the involvement of private entities in all aspects of our healthcare system
supporting the establishment of centres of excellence in healthcare that will provide care to the quarter of a billion people in West Africa as well as Africans on the wider continent and in the Diaspora
supporting the manufacturing of health equipment and basic supplies such as cotton wool, gloves, and scissors for the West African market here in Ghana.
CONCLUSION
These measures that I have outlined here are bold and far-reaching but we have no choice. We cannot be a modern nation without being healthy. And we need to act with urgency if we are to confront successfully the pressing challenges of sanitation facing our cities in particular.
While government has an important role to play, I know and you know that government cannot make us healthy by itself.
The sustenance of the National Health Insurance Scheme requires not only government action, but also health professionals who think not only of quality but also of cost. In this regard, our health care professionals must come to appreciate more and more the importance of using effective but affordable care, rather than extravagant cures that are no more efficacious.
Also, while I have unbounded admiration for your commitment to patients and your profession, I urge that you protect public property and equipment in your care, from theft and wanton destruction more vigorously.
The survival of the NHIS also requires citizens who will not only use it responsibly, but also expose those who abuse it.
Keeping our environment clean under the "CLEAN GHANA INITIATIVE" cannot be the work of Government alone, crucial though that is. That work has to be complemented by the activities of an aroused, concerned and responsible citizenry, with pride in its surroundings.
Each one of us has to use public toilets responsibly, mindful of our common humanity. Even though Government cannot compel private institutions to convert their waste into energy, they can be encouraged to do so by government assistance as part of "TEAM CLEAN GHANA."
We cannot reduce road traffic accidents just by government action alone. We need every road user to be their brother or sister's keeper. We need drivers who will be more courteous, not drive and drink, wear their seat belts and rest when they need to, so that more of us will get home every evening. Also, we need police officers who appreciate that taking a drunk driver off the road is kinder to the driver and the public than taking a bribe and letting him go on his or her way.
We need communities to reach out to government and mobilise some of the resources to provide potable water and other amenities contained here.
Even though we cannot compel traditional medicine practitioners spread across our country to interact with orthodox physicians, we can, by a process of certification, ensure that they meet certain minimum standards and thereby manifest a common desire to do the best they can for their patients and for Ghana.
Only Ghanaian entrepreneurs can help us realise the potential of health care as a business, by establishing facilities and companies that will provide services to both public and private concerns. It is of interest to know that, of every dollar spent in the American economy, fifteen cents is spent in the health care arena.
To have a healthier Ghana, we must have a peaceful Ghana. That is why I ,as well as other leaders of the NPP, have repeatedly stated that there needs to be no violence before, during or after this election. No blood must be spilled in the name of this election. Let us show tolerance, for one another and for opinions that may differ from our own.
The path ahead is full of challenges but we must forge ahead, by believing in one another and in Ghana. I believe in you, in the goodwill and determination of all Ghanaians out there and in our country.
I believe in Ghana – and so must you
Let us move forward to build a healthier nation, together.
Let us work to leave our children a better nation.
Let us strive to give Africa an example of how to hold free, peaceful and transparent elections.
Africa needs us to reject the examples of Kenya and Zimbabwe.
Let us do our duty, by having an election that we can be proud of.
Let us move forward.
Yenko yanim
Wonya wo hie
Mie le ngor yim
Zaamu Gaba
Thank you and God bless you.