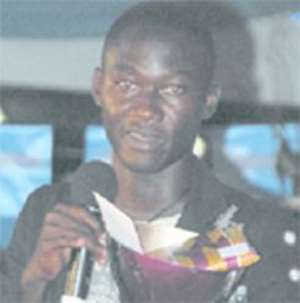 Kpando Heart of Lions' Chief Executive, Mr Walter Yankah, created a scene at the PLB Awards Night last Friday after he openly contested Eric Bekoe's coronation as the Best Player for the 2007/08 Premiership season.
A highly-disappointed Yankah stormed out of the Round Pavilion of the Trade Fair Centre in protest against the decision to choose Bekoe ahead of Lions striker, Dominic Adiyah.
In his fit of rage the Lions CEO, who had earlier lost the Best CEO Award to Kotoko's Sylvester Asare Owusu, used some unprintable words and challenged the organisers to come out and explain why Adiyah did not win the flagship award.
"What are they talking about? How can Adiyah who won 10 Most Valuable Player (MVP) awards during the league lose to Bekoe who won six?" he questioned out of desperation.
"To tell you the truth Adiyah was the best player right from mid-season," he contended.
He insisted that the only criterion he knew was the number of MVP awards won by players during the season as was the case last season. Last season Kweku Essien was voted the Best Player for being the player with the most MVP awards at the end of the season.
That decision, however, stirred controversy compelling the PLB to change the criteria this time.
But Walter Yankah, who thought his player deserved the award, demanded an explanation for the PLB's new criteria which gave coaches of the 16 Premier League clubs a 40 per cent share of the votes, same as the public, while the remaining 20 per cent went to the PLB.
Story by Samuel Ebo Kwaitoo