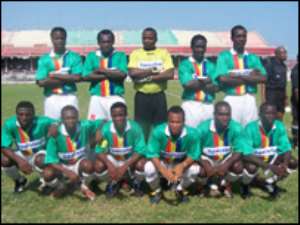 Hearts are in a turmoil The gloves have finally come off in Accra Hearts of Oak as the supporters have started the final push to force the exit of board chairman Commodore Mensah with a thinly veiled threat. 
The power struggle, which has disrupted the club's off-season activities, got to a head last week when unpopular CEO Vincent Odotei was forced to resign.
Odotei was appointed by Mensah so the fans have linked their former CEO's failures to his boss insisting Mensah is responsible for the club's worst showing in the Ghanaian top flight in over twenty years.
Hearts finished eighth last season but in a move to distance himself from Odotei the board chairman on Monday recalled six players who were sacked by the former CEO in his bid to appease the fans.
Yet, the National Chapters Committee, Hearts' supporters group, is having none of it as they have pinpointed Mensah in a bid to relieve the club of the relics of its failed recent past.
"It is our firm conviction that he (Mensah) is not capable of leading our great club," Abdul-Aziz Haruna, chairman of the NCC said in a statement.
"He (Mensah) will only serve to further plunge our club into further crisis."
Some angry fans have threatened the board chairman with violence but the National Chapters Committee says it cannot guarantee the personal safety of Mensah under the charged climate.
"The anger of the supporters is running very high and we are concerned for the personal safety of the board chairman, as well as the image of Hearts of Oak, hence our request that he resigns immediately," Haruna said.
"Should our advice to the board chairman go unheeded we believe he NCC cannot be held responsible for any actions that supporters of the club might take."
For more Ghana football news visit www.ghanasoccernet.com