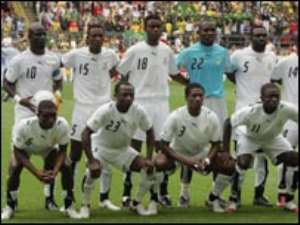 Ghana have a game against Oman Paraguay, leaders in the South American World Cup qualifiers, have expressed interest in playing Ghana in an international friendly next month.
The Black Stars have already lined up a game against Oman on 19 November, a Fifa international friendly date.
But the match has been condemned as not capable of providing the stern test needed for Ghana ahead of the start of the second phase of the 2010 World Cup qualifiers in a group that involves Mali, Benin and Sudan.
Paraguay are ahead of Ghana in the World ranking as they are placed 22nd while the Black Stars are three rungs below the South Americans.
Oman, ranked 94th in the Fifa rankings, are in a poor shape and they dismally failed to make any progress in the Asian World Cup qualifiers.
Mali, Ghana's opponents in Group Four of the qualifiers, dropped their arranged friendly against Egypt last week in a favour of a West African opponent to help them prepare adequately to play Ghana and Benin in the group.
Paraguay FA officials have now handed their Ghana counterparts the needed boost as the South Americans have expressed interest in travelling to Accra for the international friendly insisting they also want tough opponents ahead of the resumption of their qualifiers.
"Ghana is the strong country we want to play because they provide us with two important opportunities," Paraguay FA executive secretary Carlos Mattosch told Ghanasoccernet.
"The Black Stars have played Brazil and we want a similar opposition and also we can taste the African style as we are on the verge of reaching the 2010 World Cup to be held in South Africa."
The Ghana Football Association has now been handed the opportunity to help the Black Stars by changing the friendly with Oman as Mali has done with Egypt.
This would provide the strongest test for the Black Stars before facing tough opponents like Mali, Benin and Sudan in the competition which starts next in  March.
Comfortably leading the way and with one foot already in South Africa are coach Gerardo Martino's Paraguay.
The Argentinian tactician has constructed a compact unit that have won five out of five in the capital Asuncion, their only defeat in ten games coming at altitude against Bolivia in La Paz.
Indeed, La Albirroja are just eight points shy of the tally that sealed their place at Germany 2006.
"We've taken an important step forward but there's still some way to go," warns Martino.
And though the high-flying Paraguayans are not there yet, they do boast a hefty six-point lead over five-time world champions Brazil.
For more Ghana football news visit www.ghanasoccernet.com