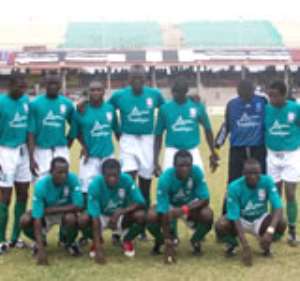 Officials of the Tamale based football club RTU say they are unhappy with what they say is the apathy of the club's board of directors towards the team.
In a statement signed by the board chairman, Adam Nantogah, the club cites a failure of the board to discuss the details of a sponsorship package which could have seen the club though the 2008/9 soccer season.
The following is the full release
The Board Chairman
RTU
Accra.
Dear Sir,
THE PREPAREDNESS OF RTU FOR THE 2008/9 SOCCER SEASON-THE CONCERN OF BOARD OF DIRECTORS
The National Channels Council has noted with concern the failure of our board chairman to organize a board meeting that was expected to discuss into details the proposals brought up by the sponsor, Wienco Gh. The sponsor's proposal was to take charge of the management of the club for a period of one-year with a higher capital injection into the club. The board was supposed to act swiftly on the proposal since the club's preparations for the 2008/9 soccer season was heavily rested on the outcome of that meeting.
The supporters considered the urgency of the issue and convened a general meeting held on September 26, 2008 and unanimously agreed that;
The proposal by Wienco Gh. Ltd to take charge of the management team for a period of 1-year in the 2008/2009 premier league was welcomed.
The board was expected thus to consider the swift response of the supporters on the issue and also do same but has yet to sit to deliberate on the issue giving the limited time the team has to prepare for the 2008/9 soccer season.
The vigorous recruitment exercise the team embarked upon recently has hit a snag due to unavailability of funds and little is known of the future of the technical head Coach Abdul Razak with our club. Indications are that, the sponsor is yet to officially engage him. The few players at the training grounds struggle for technical composition and fitness as there is little technical input and supporters are generally waiting for the outcome of the Directors meeting.
The general apathy in the club's board of directors if not checked, could once again make us prone to relegation threat this season. We therefore hope that this will be realized by your office and the necessary action taken.
Our executive council wishes to categorically state that, the recent Graphic Sports report, that channel groups in the club are opposed to the Wienco deal was only orchestrated by some few individuals for selfish interest and never represented the general interest of supporters of the club.
Hoping therefore for your necessary action, thank you.
Yours sincerely,
SIGNED
Adam Nantogah
(Chairman)
Cc: Media