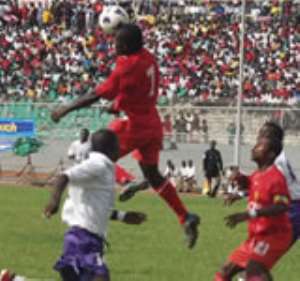 Dansoman-based Liberty Professionals beat Kumasi Asante Kotoko 1-0 to lift the GLO/GHALCA Top 4 Tournament trophy in the final match played at the Baba Yara Sports Stadium in Kumasi on Sunday.
The lone goal hero was substitute Latif Salifu who shot into the net through the blind side of goalkeeper Eric Nii Baah in a goal mouth melee in the 67th minute.
That was the only golden opportunity utilised by Liberty in the match dominated by Kotoko but could not utilise their numerous chances.
Kotoko kicked off after Referee Vivian Agbor whistled for hostilities to begin, and their first attempt at goal was thwarted by goalkeeper Daniel Adjei who saved Jordan Opoku's shot in the first minute of the game and in the eighth minute when Adjei parried Opoku's second shot to corner but the resultant kick was wasted.
Liberty allowed Kotoko to dictate the pace with skilful short passes and a shot from Stephen Oduro which hit the cross bar and bounced into play in the 12th minute.
They tried to warm themselves into the game but Kotoko's defence pivoted around midfielder Francis Akwafo denied them of goals and nearly conceded a goal but a header from Osei Kufuor missed the post narrowly.
It later became a ding-dong battle with Kotoko having the upper hand but the defence of Liberty stood gallantly and no doubt one of their players, Eric Boakye was shown the yellow card in the 35th minute for dissent.
Kotoko had free kicks in the vital area of Liberty in the 51st, 60th and 69th minutes but were squandered.
Salifu, the goal scorer for Liberty who replaced Tuah Khemix in the 62nd brought much vigour into the team and clinched the trophy for his side in the 67th minute.
Although Maxwell Mensah of Liberty had an early shower, for intentionally handling the ball two minutes after the goal, they managed to hold on to their lead until the end of the game.
Jordan Opoku of Kotoko was adjudged the best player of the match.
Liberty should have been presented with the trophy after the round robin stage when they emerged winners followed by Kotoko, Kpando Heart of Lions and Berekum Arsenals, but had to play the runner-up in the grand finale.
During the tournament, Liberty beat Kotoko 2-0 in Accra and drew 1-1 in Kumasi.