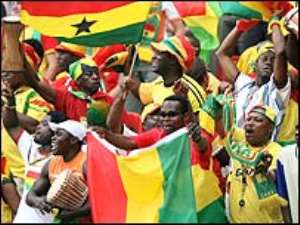 Ghana fans are undecided Ghanasoccernet has learned that the Ghanaian authorities are not keen on hosting the Under-17 World Cup in 2009 unless it receives some financial boost from Fifa.
This comes after the Nigeria's Football Federation (NFF) told Fifa on Thursday that it wants to pull out of hosting the tournament which has a budget of US$30m to be funded by their reluctant government.
Ghana, who are seen as suitable replacements, hosted the African Cup of Nations in January and have facilties to be able to host the global event.
But with the country still reeling from a debt of about US$200m from hosting the Nations Cup, an apporaching general elections and the global credit squeeze biting, sources within Ghana's sports ministry say it is unlikely to be considered.
"The country has huges debts of it has to pay some banks following the Nations Cup so I dont think this is a priority," the source within the sports ministry told Ghanasoccernet.
"With the elections coming and also the global financial crisis I think Ghana can only step in if Fifa pays the bills.
"It would be a huge burden on the finances of the country if we should take that responsibility."
Caf lobbied for all global soccer tournaments to be played in Africa in 2009 ahead of the continent's hosting of its first World Cup in South Africa in 2010.
But the Nigerian government says funding the $30 million budget for the U-17 World Cup was not a priority.
The president of CAF, Issa Hayatou, has responded by saying he is "extremely disappointed and shocked" by the move.
In a letter seen by the BBC, Mr Hayatou reminded the NFF that only African countries had been able to bid for the event because of the senior World Cup in South Africa 2010.
"The decision ... is embarrassing not only for CAF but for the whole African continent," he wrote.
He called on Nigeria to change its mind.
"We count on your wisdom to review this decision since Nigeria, as one of the football powerhouses of the African continent, is one of the countries which can make Africa proud whenever hosting world sporting events."
Nigeria are the current Under-17 World Champions, having triumphed in South Korea last year.
World football's governing body Fifa says that the matter may be discussed on Friday at an executive committee meeting, while the NFF have been unavailable for comment.
For more Ghana football news visit www.ghanasoccernet.com