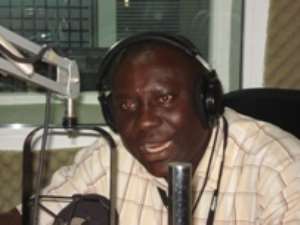 Ododtei is not popular with fans Vincent Odotei Sowah has finally thrown in the towel as Hearts of Oak's CEO amid an engulfing financial scandal and massive protests from supporters of the club.
Odotei, who is under investigation over the transfer of Stephen Ofei, Charles Vardis and Don Bortey to Israel, announced his decision to quit the post after a bad-tempered board meeting on Thursday night.
"We had a very stormy board meeting and I felt I was threatened and I felt the directors were antagonistic towards me so I decided to walk," Odotei said.
Despite quitting his post, Odotei has hinted that he could return to the fold within the next 24 hours.
"In life you keep reviewing your position and on this occassion I have done what is sensible," he said.
"I have not sent in a letter stating that I have resigned but I will look at the situation today and take it from there."
Odotei has been under fire for the club's unimpressive recruitment in the off-season after Hearts struggled in Ghana's top flight last season.
Supporters from the club's powerful 'Chapter 9' in Kumasi stormed the board meeting in Accra to protest against the stewardship of Odotei insisting he must step aside while he is under investigation.
For more Ghana football news visit www.ghanasoccernet.com