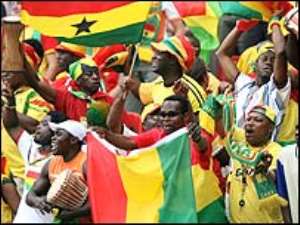 Fans must support the Black Stars Nigeria assistant coach Daniel Amokachi says underrating their opponents in the next phase of the 2010 World Cup qualifiers could spell doom for the Black Stars. 
Ghana was drawn on Wednesday to play Benin, Mali and Sudan in Group 4 of the joint qualifiers that includes the 2010 African Cup of Nations in Angola.
The Black Stars, who struggled against Gabon and Libya in the previous qualifiers, needed a convincing win over Lesotho earlier this month to advance to final
phase.
Amokachi, who played for the Super Eagles in the 1990s, says Ghana must be guided by the previous qualifiers to ensure a safe passage to the 2010 World Cup to be held in South Africa.
"Ghana went through a lot of difficulties to be able to qualify for this stage so this must be lesson for the Black Stars," Amokachi said.
"This should tell them that there are no easy teams in Africa and this stage is stronger than the previous one so they must prepare.
"It would be sad not to see Ghana at the first World Cup in Africa because they are pioneers of the game on the continent."
Despite the warning, Amokachi is confident that Ghana and Nigeria will qualify for the tournament.
"Both Ghana and Nigeria will qualify because we have the players and capable technical men to help the teams qualify, said the former Everton star.
"We are brothers and to see these two countries with talented players at the tournament is something that would delight me.
"I am confident that we will qualify and even reach at least the last four of the World Cup or even the finals."  
For more Ghana football news visit www.ghanasoccernet.com