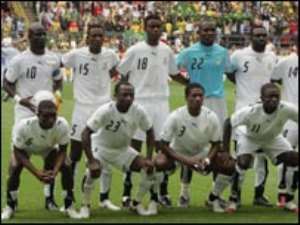 GHANA HOPING FOR AN EASIER GROUP Ghana's were handed a tough group in the final qualifiers for the 2010 World Cup as the Black Stars will play Benin, Sudan and Mali in Group 4.
The Black Stars have been paired against the three countries who played at the recent African Cup of Nations in Ghana.
This shows that Ghana's three opponents have made important strides in their game over the past few years.
Ghana will host Benin in their group opening game on 29 March while Mali travel to face Sudan.
The Black Stars final game will be against Mali and the good news is that the game will be played at home for Ghana.
While the group is not as tough as Cameroon's Group One, the recent form of the three countries poses a great threat to the Black Stars.
Ghana's group will feature the replay of the Group 10 of the previous qualifiers where Mali faced Sudan and finished top of the standings with 12 points, three more than their north African counterparts.
The Eagles have some of the continent's best players including Freddy Kanoute of Sevilla, Muhammadu Diarra of Real Madrid, Barcelona's Seydou Keita as well Mohammed Sissoko of Juventus guided by Nigerian coach Stephen Keshi who guided Togo to their first World Cup appearance.
Striker Razak Omotoyossi and Stephane Sessegnon will present a real threat to the Black Stars while a mainly home-based Sudan led by Faisal Agab would have the team spirit to face Ghana.
Cameroon were perhaps the unluckiest of the seeded teams, having been drawn against Togo, Morocco and Gabon in Group 1.
Complete Groups
Group 1
Togo, Cameroon, Morocco, Gabon
Group 2
Mozambique, Nigeria, Kenya, Tunisia
Group 3
Rwanda, Algeria, Egypt, Zambia
Group 4
Ghana, Benin, Sudan, Mali
Group 5
Côte d'Ivoire, Malawi, Burkina Faso, Guinea
Ghana's matches
28/29 March: Ghana v Benin ; Sudan v Mali
6/7 June: Benin v Sudan; Mali v Ghana
20/21 June: Mali v Benin; Sudan v Ghana
5/6 Sept: Benin v Mali; Ghana v Sudan
10/11 Oct: Benin v Ghana; Mali v Sudan
14/15 Nov: Sudan v Benin; Ghana v Mali
For more Ghana football news visit www.ghanasoccernet.com