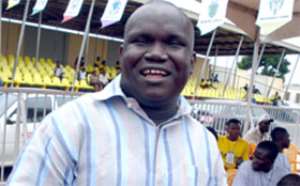 Kenneth Ashigbey, Chief Executive Officer (CEO) of Optimum Media Prime (OMP), organizers of the MTN Soccer Academy Reality Show, has refuted allegations that teammates from the Ashanti Region are being discriminated against.
Reports reaching DAILY GUIDE SPORTS indicated that supporters of some teammates last week at the press briefing of the academy, took issue with the fact that teammates from the Ashanti region were the only ones being evicted from the Academy House.
But Mr. Ashigbey, who was present, debunked that allegation maintaining that the MTN Soccer Academy Show was basically a competition and that the region one came from had very little to do with who stayed or left the house.
"The onus lies on the teammates, since their performance will determine whether they stay or leave, with the judgement based on 65 percent from the technical bench and 35 percent by voters.
"People must always remember that the magic number is 1351 (MTN short code). They must vote by texting the number of their favourite teammate with the code number if they want to keep their teammate in the house," he disclosed.
Mr. Ashigbey stated that only the best teammate would win the ultimate prize and represent Ghana abroad.
"In order to ensure that the teammates get the best, the management of OMP in collaboration with Metro TV, has put in place a technical brain in charge of their exercise, taking the boys through various training routines."
  By Pierre Toto