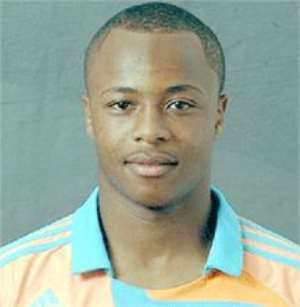 The national U-20 side, the Black Satellites, will launch a vigorous training programme early next month in preparation for the African Youth Championship in Rwanda which kicks off in January 9, 2009.
The team last Tuesday broke camp after their show of gallantry in The Gambia where they beat their Gambian counterparts 1-0 in a rare feat which gave them one of the tickets to the African Youth Championships.
Mr Jordan Anagbla, Chairman of the Black Satellites Management Committee told the Graphic Sports that the team would be reassembled early next month to begin a long camping towards the tournament.
He said as part of the plan to build a formidable team for the African Youth Championship the team doors would remain open to give the opportunity to both local and foreign-based players to justify.
Ghana's qualification last Sunday was the first time since 2003 when she had a disastrous outing in Burkina Faso. The Ghanaians had in the previous edition a brilliant campaign in Ethiopia which culminated in a landmark appearance at the World Cup where they lost narrowly to host Argentina.
Indeed before the game against The Gambia last Sunday in Banjul, many had proclaimed doom for the team as the 2- 1 victory the Satellites had in the bag after the first leg battle at the Ohene Djan Stadium a forhtnight earlier was too slim.
The Satellites, problem were further compounded by the brilliant showing of the Gambians in the first leg.
According to Mr Anagbla, the Satellites great showing was inspired by the encouragement the team received from the handlers the moment they realised that the first leg results secured from home had demoralised the team.
Jordan who in the midst of the murky situation still had the guts to declare qualification for the Ghanaians said he was particularly inspired by the realisation that the situation this year was a replay of the drama that culminated in Ghana's qualification for the 2001 edition of the Africa Youth Championship in Ethiopia.
Indeed before they qualified for that championship they had only posted a 1-0 win over Algeria at the then Accra Sports Stadium and had been written off but some how conjured a surprise 2-2 draw in Algeria to qualify.
Mr Anagbla paid glowing tribute to Abeiku Quansah whose great goal helped the team realise that famous qualification bid and Andre Dede Ayew who was selfless on the pitch.
Story by Andy Quao