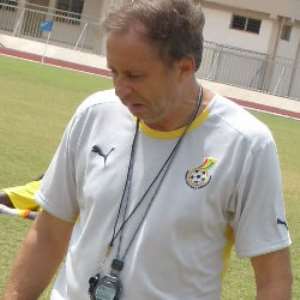 Ghana might have lost to South Africa in Wednesday's international friendly. But coach, Milovan Rajevac remained a satisfied person with the experience gained from seeing a second-string side have a run out.
The Black Stars lost 2-1 to South African in an international friendly in Bloemfontein.
Ghana took the lead before the more established Bafana Bafana side came back to win the game. And the result might have been a disappointment considering the nature of the goals scored by the host.
Milovan Rajevac, after the game told KickoffGhana.com that it was a good exercise for him and also the team.
"This was a great experience for me and for this young team," he said.
"We wanted to give opportunities to younger players to see what they have in them and if they can help us in the next round of World Cup qualifying.
"The game was a good one, it gave me the chance to see the players, see the good and the bad things they did."
The match winner which came from a set-piece in the 78th minute was a real bother for Rajevac.
"We should not have allowed them to score at the near post. The South African team has good players with good technical ability, but their big weapon is their set-pieces and we knew that.
"We therefore showed our inexperience at not defending properly to prevent them scoring," he said.