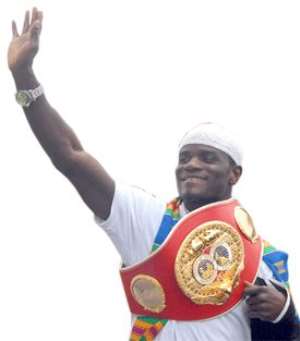 The Okyenhene, Osagyefo Amoatia Ofori Panin, has presented IBF welterweight champion, Joshua Clottey, with an acre of land at Kyebi in recognition of his big international achievement.
The Okyenhene, announced this package at a colourful durbar to mark his ninth enstoolment anniversary at his palace at Kyebi in the Eastern Region last Friday.
He is to officially present it to the champion next year during his 10th anniversary.
Announcing the package, he said "Joshua has made all Ghanaians proud through achieving this feat.
We have to pray for him, support him to continue to bring us more joy in future. His example is one that provides encouragement for the younger sportsmen and women in Ghana."
In his response, Joshua said he was touched by the gesture.
Clottey (35-2, 21 KOs) congratulated Osagyefo Amoatia Ofori Panin on his anniversary, saying leadership example over the years is one which needs to be emulated by the younger generation", he said.
Clottey later told this paper that he would gather resources in the future to build a training centre for children at Kyebi to help them develop their sporting talents.