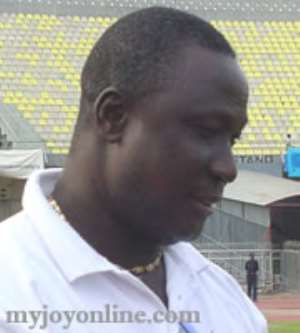 Kumasi Asante Kotoko have denied suspending Coach Bashiru Hayford from the club.
According to Kwame Baah Nuako the communications director of the club, the coach was issued a query letter for deserting the club after the 2-2 drawn game against Etoile Du Sahel at the Baba Yara Sports Stadium last Sunday.
The query letter also asked Coach Hayford not to be part of the porcupine team that enplanes to Onduman this week end for Kotoko's final match against El Marreick in the CAF Confederations Cup.
Granting an interview to Carl Tuffuor on Joy FM Sports Track, Mr. Baah Nuako said the decision to exempt Bahiru from the team was as a result of his absence from training grounds
"One who did the selection for the match would have to lead the team, if somebody does the selection only for him to take over he would not be held responsible if the team under performs."
He however expressed his dissatisfaction with comments purported to have been made by Coach Bashiru Hayford to the media on his receipt of the query letter.
He said a substantive decision on the future of the coach would be made after their return from Sudan.
Meanwhile Editor of the Africa Sports Newspaper Kwabena Yeboah has described the action taken by the management of Kotoko as "unfair and insensitive to the coach."
He said the decision was a stab in the back of a coach who has enormously lifted the fortunes of the Kumasi based club.
"It was the time the coach needed the support sympathy and understanding of management they decided to stab him in the back." He said.
He described the circumstances after the Kotoko match as volatile with fans manhandling and threatening the coach prompting him to move to Tema to seek temporary refuge.
He said Kotoko's reasons for excluding Bashiru from the team was flimsy, adding, the coach had all along been liaising with his assistant and would not have any problems getting back to the team.
The man in the middle of the controversy Bashiru Hayford in an earlier interview with Carl Tufuor on Sports Track said he was not bitter with the decision by the fans.
He however defended his decision to seek refuge in Tema, adding his life was under threat.
Story by Nathan Gadugah