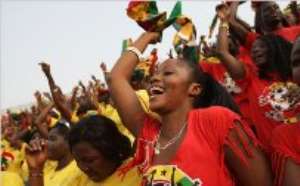 FANS ARE STARED WITH DEATH The potential for deaths and serious injuries have been ignited by the over-crowding at the Essipong Stadium as Ghana play Lesotho in the final 2010 world cup group match against Lesotho on Saturday.
This is because of loose security checks at the stadium which has led to the 20,000 seater being over-filled.
Two persons were reported dead even before kick-off.The latter being a 7-year-old boy who suffocated to death.
Every space at the stadium is clogged with fans who forced their way into the stands.
The media box has been overtaken by intruders and the aisles are also packed with supporters.
The security are handicapped and have run out of ideas of controlling the crowd.
For more Ghana football news visit www.ghanasoccernet.com