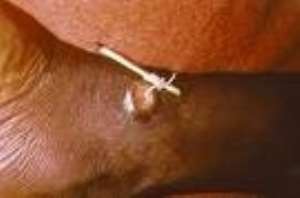 Guinea Worm infection in Volta Region has reduced significantly, Mr Matthew Draffor, Volta Regional Coordinator of Guinea Worm Eradication Programme said at Hohoe on Friday.
He said available statistics from endemic districts, namely Krachi West, Krachi East, Kpassa and Nkwanta, indicated that a case was reported between January-June, this year, compared to 20 cases recorded within the same period in 2007.
Mr Draffor speaking to Ghana News Agency said a village reported the disease as against 14 villages in 2007.
He said no new case was reported within the indigenous villages that were endemic but there was an imported case this year, compared to nine cases in the indigenous villages that were endemic and 11 imported cases within the same period last year.
Mr Draffor said sustained multi-sectoral approaches involving major actors and donor partners like the Community Water and Sanitation Agency, (CWSA), District Assemblies, Carter Centre, World Health Organization (WHO) and United Nations Children's Fund (UNICEF) led to the reduction in the disease.
Some of the interventions, he said were increased surveillance and strengthened early detection mechanisms, effective case management and containment, application of abate, chemically dosing ponds and other sources of water and health education.
Mr Draffor noted that provision of potable water reservoirs by government, in collaboration with development partners at Sibi Central and Sibi Hill-Top in Kpassa District, which hitherto accounted for bulk of the disease in the Region, revolutionized the situation.
He was optimistic that the Region would not experience outbreaks of Guinea Worm since all indigenous transmission chains had been broken.
However, Mr Draffor said surveillance would be maintained on imported cases for management and containment.