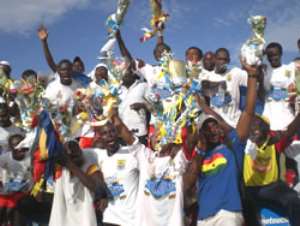 The Board of Directors of Accra Hearts of Oak Sporting Club has instituted a two-member Committee to investigate allegations of financial impropriety against the acting Chief Executive Officer of the Club.
The Committee under the Chairmanship of Prof. Kofi Kumado has been charged with the responsibility of investigating the said allegations and report back to the Board not later than 17 October, 2008.
Mr E. M. Commodore-Mensah, Board Chairman in a press release copied to GNA Sports on Thursday said the other member of the Committee is Mr Frank Nelson Nwokolo who will act additionally as Secretary of the Committee.
The statement said the institution of the Committee by the Board follows allegations of corruption levelled against Vincent Sowah Odotei, the acting Chief Executive Officer by a section of the media.
Mr Commodore-Mensah therefore requested all persons who have any information relevant to the work of the Committee to send such information to the Secretary of the Committee at the Club's Secretariat.
He appealed to all members and well-wishers of the Club to remain calm and await the outcome of the Committee's work and to stay focussed and solidly behind the 'Phobian' fraternity.