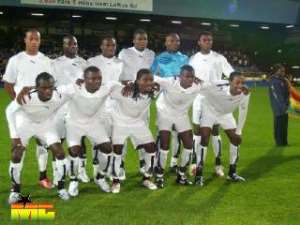 All is set for the Saturday qualifying soccer encounter between the Ghana Black Stars of Ghana and their Lesotho counterparts billed for the Sekondi stadium at Essipon.
Mr. Peter N. Akowuah, Western Regional Sports Development Officer told the GNA Sports at Essipon on Wednesday that all arrangements to ensure a successful competition had been concluded.
Arrangements including security, transportation for fans, ticketing and accreditation for the Media has been completed, Mr. Akowuah said.
Since the African Cup of Nations tournament, (Ghana CAN 2008) soccer fans in the Sekondi-Takoradi Metropolis have not had the opportunity to watch any international soccer match at the magnificent Essipon stadium.
Saturday's match would therefore offer the sporting public in the Metropolis another opportunity to watch and support the national soccer team once again.
Mr Akowuah said 200 Police officers, 50 personnel from the Ghana National Fire Service and a number of personnel from private security organisations would be at the stadium to enforce security.
Tickets would be sold at two, four, and ten Ghana cedis, while a total of 120 accreditations would be reserved for both the electronic and print media.
Meanwhile, workers of the various organisations including the Electricity Company of Ghana and Ghana Water Company are feverishly putting up finishing torches of their facilities to ensure that there was no interruption in services during the match.
Workings of Zoomlion are also busily tidying up the inner and outer perimeters of the stadium.
Mr. Akowuah said the Sekondi-Takoradi Metropolitan Assembly has made special transport arrangements for soccer fans travelling from areas such as Kojokrom, Nchaban, Takoradi, Sekondi, Apowa and other areas to watch the match at the Essipong stadium.