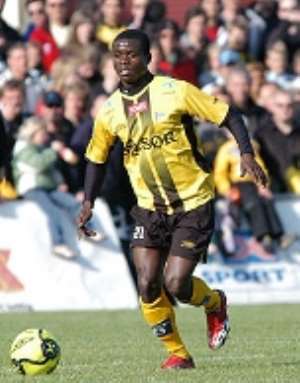 Annan wants the Stars to win Ghanaian star Anthony Annan reckons that the Black Stars have been foolish in underestimating their opposition in World Cup and African Nations qualifiers. 
The Rosenborg midfielder has called for his team mates to live up to their ranking of 20th in the world and cruise past teams like Gabon and Libya.
Ghana play Lesotho on Saturday needing a win to stand any chance of qualifying for the World Cup and African Cup of Nations tournaments.
"The smaller teams have shown more determination than us and maybe that's why we've lost to Gabon and Libya along the way," Annan told BBC Sport.
"We have to be more serious and do everything possible to win these types of games.
"These countries have seen Ghana do well at the World Cup and African Cup before and so are more motivated when they play us.
"Their players idolise the likes of Michael Essien and want to do well against our famous players like him."
Essien will not be taking part in the crucial qualifier against the Crocodiles after suffering a knee injury in the Black Stars' defeat at the hands of Libya. But, Annan is confident of a win despite the exclusion of the Chelsea playmaker.
"Essien is very sad not to be available to help his country but the good news is that we have Stephen Appiah back from his own injury.
"I don't know if the manager will decide that Stephen is ready to start the match but if not we have Sulley Muntari who can also play alongside me in the middle."
Even though Lesotho have no hope in hell of progressing to the next stage, Annan believes that they will play a major role in deciding the outcome of the group.
"We know that today every country in Africa is capable of playing good football and Lesotho will be giving everything," Annan said.
"We all have to give our maximum efforts if Ghana is to qualify."