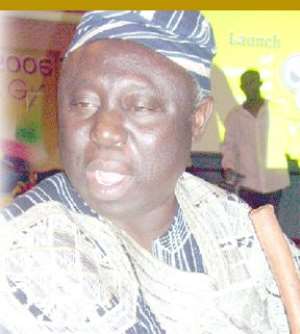 Former Chairman of the Ghana Football Association, Lepowura Alhaji M ND Jawula, says he is still appalled at the standard of refereeing in the country and is now prompted to express his misgivings to the continental soccer governing authority, the Confederation of African Football, (CAF).
Lepowura Jawula, who is an executive member of CAF, told the Graphic Sports in Accra that it hurts that in these modern times some referees insist on packages before they can guarantee fairness in matches they are assigned to officiate.
"I am in the process of sending a report based on my own experiences and my own individual perspective of the game in recent times which will certainly inform CAF on its future decisions on referees from Ghana, he said.
"It hurts when every effort is being made to improve upon standards of the game and some unscruplous referees are drawing the game back," he lamented.
"We cannot continue to make the case of poor officiating part of our football culture. Unlike in the European Leagues where the action is quite thrilling in the final fixtures, in Ghana the referees virtually take the stage and pepertuate all kinds of acts which are very inimical to the development of our game," he said.
He blamed the FA for its failure to establish the necessary structures to nip the problem in the bud and weed out referees who continually err and always bring the game into disrepute.
Such a body, according to him, should include former footballers, former football administrators and other stakeholders.
The former FA boss urged the FA to learn from its superior body, CAF which has now set up a body of observers who sometimes without notice travel to venues to watch matches and present independent reports to the CAF Executive Committee.
He noted that Ghana's football in recent times had attracted bad press following the scandalous results recorded in last year's Middle League which posted 59 goals in only two matches and the more recent attempt by a Canadian Journalist, Declan Hill, to link some Ghanaian footballers to match fixing, saying that has foisted on the football authorities to rid the Ghanaian game of charlatans.
It is against this background that he has called on the FA to closely monitor this year's Middle League with the aid of the Bureau of National Investigations and other independent observers to track down on the activities of unscruplous referees.
Story by Andy Quao