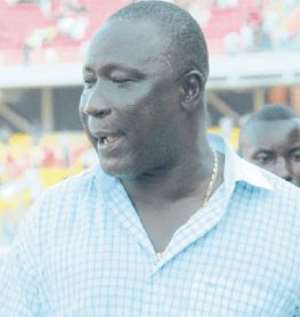 Playing a crucial continental game minus key striker Kojo Poku could, to all intents and purposes, be a blow to Asante Kotoko.
This is so because the team is obliged to marshal all available resources to tear apart Tunisia's Etoile du Sahel in the penultimate group game of the CAF Confederation Cup tomorrow.
Number one marksman, Eric Bekoe, has not struck the right chord with either Emmanuel Osei Kuffuor or Kwabena Yaro.
It has, however, been better with Kojo Poku, and as Poku will be missing in action this time, coach Bashir Hayford will have to do some reshuffling to strike the understanding upfront.
Understandably, Kotoko will need to hit their strides to recreate the continental magic of the past.
But even before they arrive in Kumasi this night, Etoile are refusing to countenance defeat on their first outing on the soil of Kumasi.
The record books indicate that Saturday will be the first meeting between Kotoko and Etoile in Kumasi. Ahead of that CAF Confederation Cup group game, the ambitions of the two teams may be slightly different.
While Kotoko, who find themselves at the bottom of Group B need a huge win to extricate themselves from that uncomfortable placing, Etoile will be content with a draw to push them a step further towards the final.
With six points apiece, and only goals separating them, none of the four teams in the group seems destined to make it to the final yet, and perhaps this weekend's matches could change the picture.
Both Kotoko and Etoile have individual skills but the advantage of playing at home, no matter how one looks at it, can provide an indispensable weapon for a significant triumph for Kotoko.
Kotoko's technical level has gone up after a tight training regimen guided by Bashir Hayford. The propensity to stutter in away games has contributed to put Kotoko at the bottom placing, and they can only make up for the shortfall when they get the goals at home.
Terrible defending has been the bane of the team and they can only do better by tightening the back.
Kotoko could face some serious challenges before putting their feet on the winning podium. They will be going into the match with so much pressure from their fans who expect nothing but a resounding victory.
The technical team has been working hard on the defence and Inkoom, Asare, Osei Kwame and Ofosu Appiah will have to hold the Etoile attack at bay.
The toughest challenge for the Kotoko defence will come from Nigerian striker, Emeka Okpara, the man who fetched a brace in the 2-0 victory in Sousse.
Story by Kwame Asare Boadu