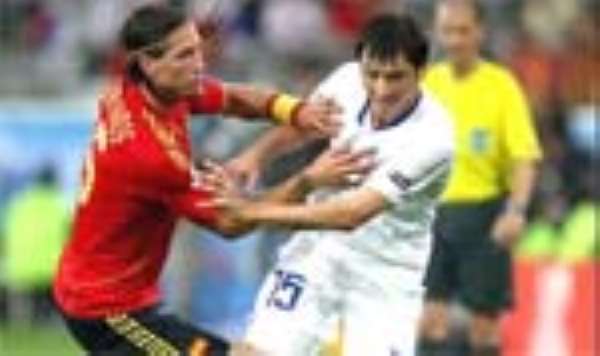 Optimum Media Prime (OMP), which is owned by Metro TV, has secured the exclusive rights to telecast live matches of the ongoing Euro 2008 championship from the quarter finals to the finals.
This is in response to the numerous out-cry by a cross-section of Ghanaians about the inability of Ghanaian television networks to beam live this all-important tournament, second only to the World Cup.
It will also be recalled that DAILY GUIDE SPORTS reported that some football loving Ghanaians had expressed worry over the inability of Ghanaian television networks to transmit live the Euro 2008 competition.
According to a statement, OMP broadcasted the first match on June 17 and the subsequent matches follow until June 29 when the champion ends.
It added that OMP has successfully syndicated and marketed the rights and sponsorship for the Black Stars' current World Cup qualifying campaign and recently syndicated the sponsorship and management of the TV rights on all national TV stations in Ghana for the just ended AFCON, Ghana 2008.
The statement added that OMP's Euro 2008 licensing rights are exclusive to the territory of Ghana for free to air transmission and currently, Metro TV is the only TV station that OMP has sublicensed to broadcast the games live.
Meanwhile, the company says it is extending an invitation to all other TV networks that may be interested in either the live or delayed telecast of the semi final and final matches to contact the managing director of OMP on 021785841 or 0244315864 for sub-licensing.
By Charles Nixon Yeboah